Complete customer information
in your inbox
With Bigin's Gmail add-on feature, you can perform the same tasks which you do in your CRM application on gmail, you need not go through your sales pipeline or switch tabs to get information about your customers. Bigin ensures people who use gmail for their work to do more than just sending mails, you can use gmail in ways that could result in increased productivity.
The best part is that this feature works even in your gmail mobile application. This means that you don't have to switch tabs or open your CRM application when you want to access information about your customers you can easily access contact information from Bigin inside gmail.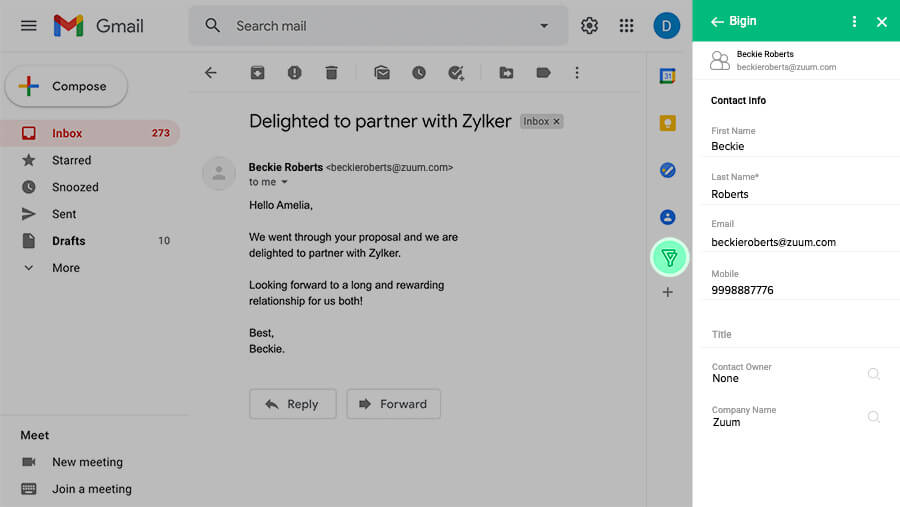 Say goodbye to switching tabs by integrating your Gmail inbox with Bigin and enjoy focusing more on boosting sales.Now let's take a quick at how Bigin's CRM integration with gmail can help you transform the way you use gmail.
Do more than just emails.
Here's how Bigin helps you always stay on
top of your customers
E-mail templates
In Bigin, you can save a lot of time and effort by creating email templates. Personalize and save your regularly used templates and organize them in folders for future use. Forget about writing formulaic and repetitive emails—use templates to churn them out quickly.

Automate with workflows and close more deals
Workflows are a feature in Bigin that enable you to set condition-based actions, automate repetitive time-consuming tasks, and make work effortless and uncomplicated. By automating the process of sending emails with workflows, you can save yourself a huge amount of time and ensure you never forget to send an important email.

Email insights
Determine not just whether your potential customers have opened, clicked, or bounced emails, but the exact time they opened them.With email insights, you can analyse the effect of every email you send. Bigin's Signals feature will notify you immediately of incoming emails so you can respond to important messages quickly and efficiently.

Capture data
It becomes almost impossible to miss something because Bigin automatically captures your customer data from Gmail so your employees don't have to; instead they can focus on boosting sales.

Mass emails
If you're using Gmail to manage a large number of customers, manually sending emails to each one of them can be very time-consuming. Forget about this monotonous process once and for all. With Bigin configured to Gmail, you can send mass emails with a few simple clicks.

Add multiple Gmail accounts and respond to customer inquiries faster
With Bigin you can configure multiple emails of various departments. For example, you can easily configure emails from your sales, support, partnerships etc.. After it is configured these departmental e-mails will automatically appear in your e-mail composer window.

Why Bigin is the go-to CRM
for small businesses
Built specifically for
small businesses
Bigin is easy to use, has all the essential features for small businesses, and is priced at a pocket-friendly $7 per month per user.
Set up your CRM in under 30 minutes
Simple and intuitive, you can easily set up Bigin and start selling in
under 30 minutes.