Why integrate Google Workspace
with Bigin?
Google Workspace is useful for quickly adding details of new contacts. But that doesn't do you much good if you have to keep switching between applications to fetch simple things like contacts and schedules. It makes sense to bring your Google contacts to Bigin and sync your calendars across both apps.
Get your contact and schedule woes ironed out.
The Google Workspace integration for Bigin helps you achieve seamless sync between all your contact and calendar information in your Bigin and Google Workspace accounts. No more time-consuming copy-pasting.
Bring your Google contacts and users to Bigin.
Add all your Google contacts to your Bigin account, as soon as you integrate. Your customers and prospects stored as contacts in your Google Account will be automatically added to Bigin for better monitoring, nurturing, and conversion.
You can also bring the other users from your Google Workspace account to Bigin!

Sync your schedules with Google calendar.
Having your schedule, reminders, and events spread across two applications is a recipe for disaster. Sync your schedules in Bigin with Google Workspace calendar with this integration.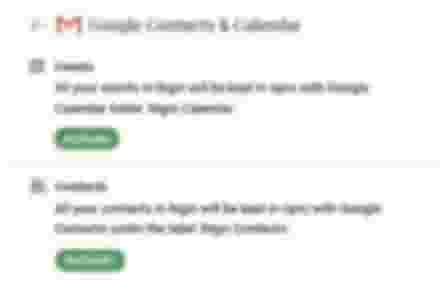 Connect Gmail to Bigin
Easily send emails to your leads and contacts directly from your Bigin account. Connecting Gmail to Bigin will allow you to send and receive emails without ever leaving the Bigin app.

Easily add Bigin to Gmail
Bigin's Gmail add-on lets you add contact information from emails in your Gmail inbox to Bigin easily. Plus, you can view the complete contact information of your existing customers whenever you open their emails on Gmail. This Bigin add-on also works on mobile!
Learn More

Why Bigin is the go-to CRM
for small businesses
Built specifically for
small businesses
Bigin is easy to use, has all the essential features for small businesses, and is priced at a pocket-friendly $7 per month per user.
Set up your CRM in under 30 minutes
Simple and intuitive, you can easily set up Bigin and start selling in
under 30 minutes.