Your favorite small business CRM is now on
iOS 14
iPadOS 14
macOS Big Sur
watchOS 7
Bigin was easy before. Now it is effortless.
With the unveiling of the iOS 14 for the iPhone, we've developed some great features and productivity tools to help you do even more with Bigin.
Access Bigin
Try Bigin Now
Check out what Bigin gets on
iOS 14

iPadOS 14

macOS Big Sur

watchOS 7
iOS 14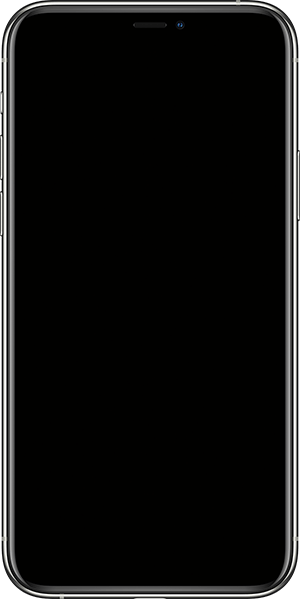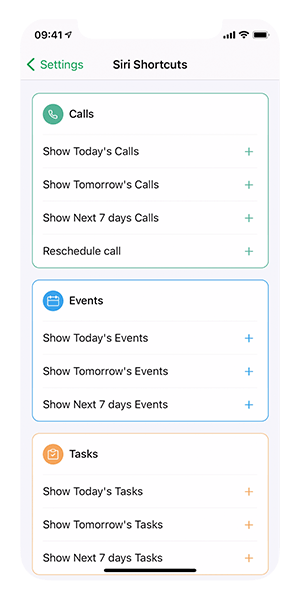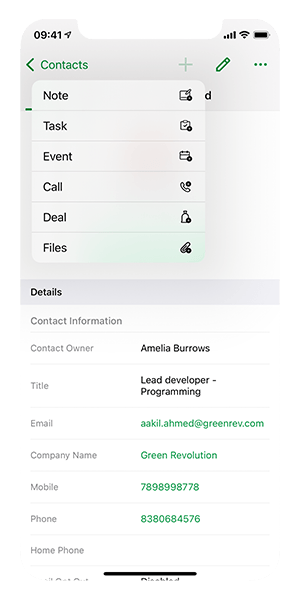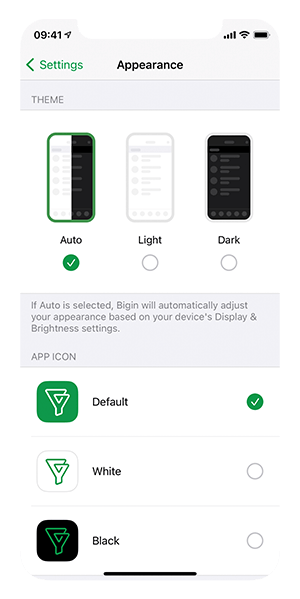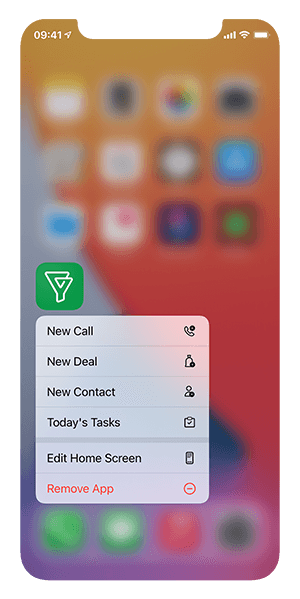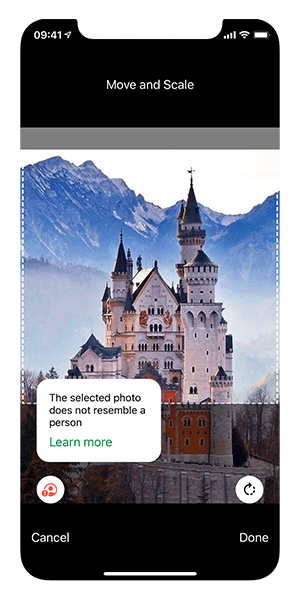 Widgets
Bigin's widgets are here to keep you up to speed, throughout your day.
You can set reminders on your home screen like post-it notes to stay updated on your activities without ever having to open the app. Bigin's widgets display tasks, events, and calls while allowing you to create new activities easily. Available across the latest iOS, iPadOS and macOS Big Sur, Bigin's widgets also come in multiple sizes keeping in mind your screen real estate.
Siri Shortcuts
Siri doesn't take up the entire screen anymore!
This means you can now summon Siri on any screen and never lose context from the background. Get Siri to perform activities such as: call, schedule, create tasks and events, and take notes on the go. This includes both Siri suggestions on the lock screen and for Search!
Wind Down Shortcuts
Get a head-start into tomorrow with
Wind Down Shortcuts.
Bigin is now available as a Wind Down Shortcut, so you can always see what your next day looks like before you go to bed. Your plan for the day ahead is lined up on your iPhone, iPad and even on the Apple Watch to help you keep up with your schedule.
All new
user interface
Pipeline View
The Pipeline view we all love from Bigin's webapp is now available on both your iPhone and iPad. It works the same so you will feel no difference when you switch between devices.
With this new interface, you can easily navigate through pipelines, select multiple items, drag and drop deals to other stages, and always get a clear summary of your deal stages.
The Look
Bigin's new layout has menus at the top of the app on all screens so you can easily access modules. The dark mode gets its fair share of tweaking as well: It's now available in Auto, Dark, and Light modes.The app icon also now comes in Default, Light, and Black to blend in with your theme smoothly.
Home Screen quick actions
The Bigin app comes with 10 customizable quick actions in the settings. Now you can simply long press the app icon on your home screen and it will prompt you with a list of actions to perform. Pick any action to get started right away.
Security refresh
With Apple's new Photos picker, apps are permitted to access only the images you choose to upload and not your entire gallery. We went a step further and added a Photo moderation feature to Bigin which alerts you on images that aren't work-friendly, helping you keep things neat and tidy.
iPadOS 14
In addition to the features from the iOS 14, the new iPadOS gets two special features that truly make it standout when you're on the go.
Scribble
Simply write over any text field with your Apple Pencil and watch it convert to text as you write. For Bigin, however, it doesn't stop there!
In Bigin, you can also:
- Check away done deals with a "tick"
- Double tap on the pencil to undo changes
- Cross items with an "X" to delete.
Yes, it is as cool as it sounds!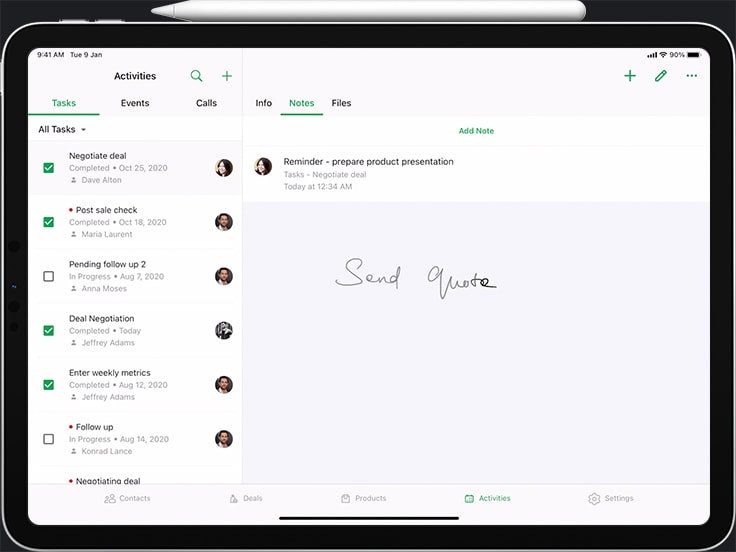 Keyboard Shortcuts
We have developed some easy to learn, much-needed shortcuts for the iPad's keyboard that are sure to come handy.
Meanwhile, the iPad's mouse or track pad get quite a few options in settings for the pointer like choosing its appearance and on-screen time.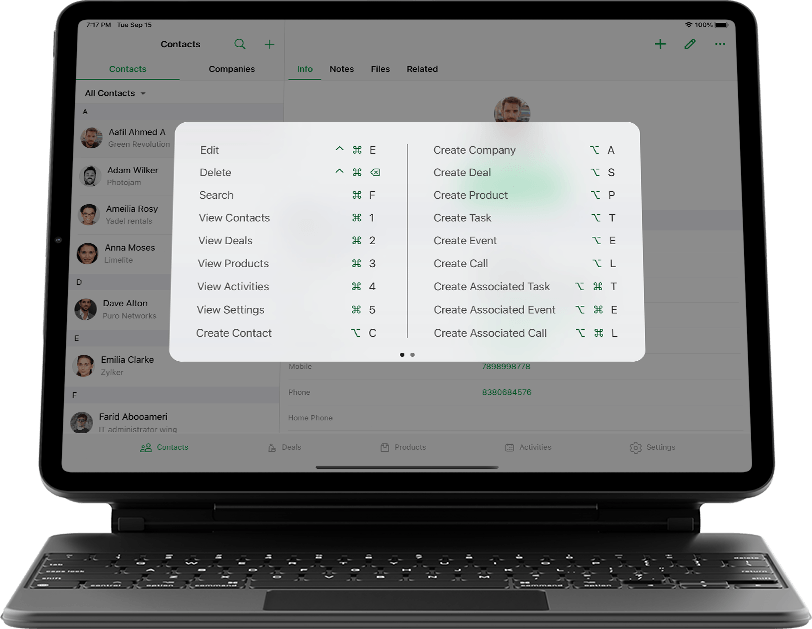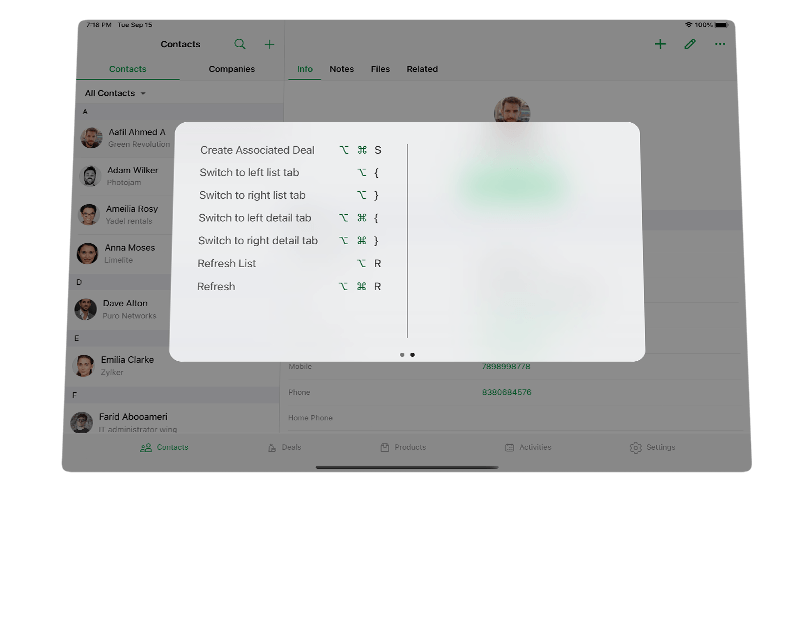 macOS Big Sur
This year, the Bigin app is made available for the Macs too. You will be able to download the all-new Bigin app from the Mac App Store. However, that is not all: we made sure you get the same seamless experience across all devices, so here's a little more to get you going.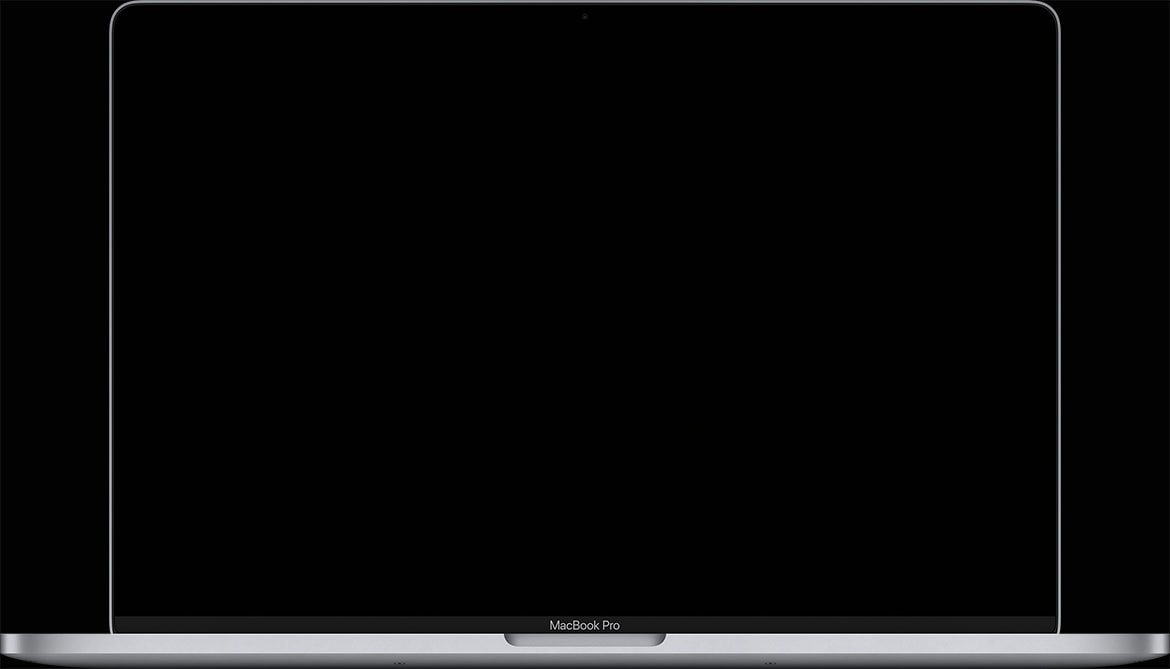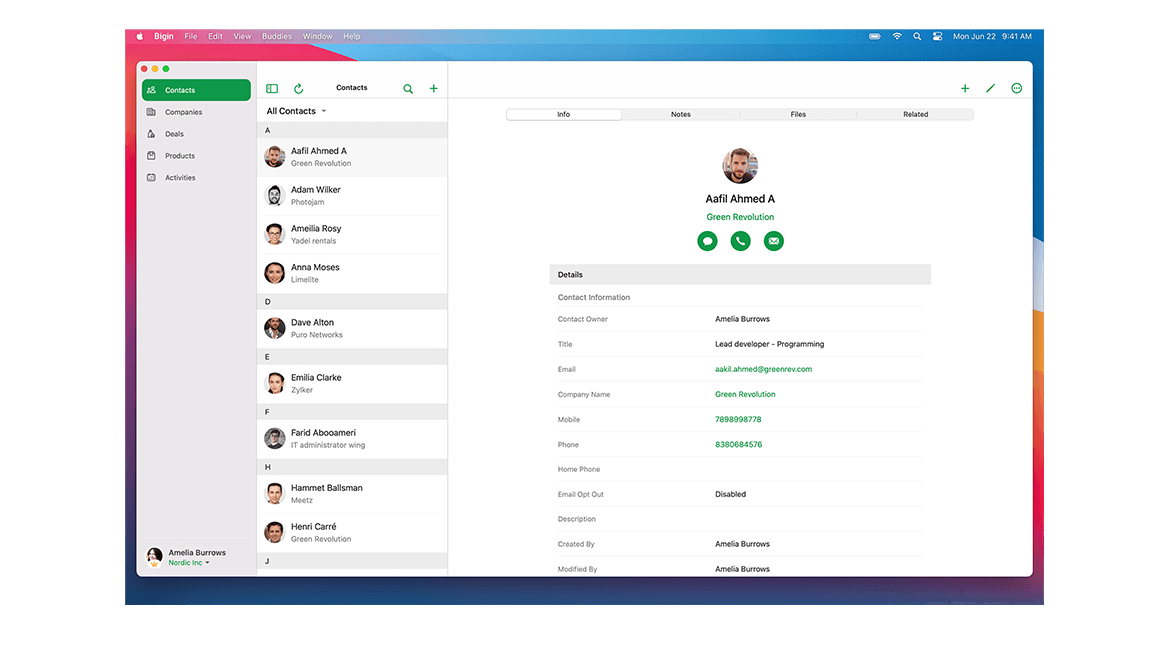 Feel native
Bigin for macOS Big Sur has a very native feel as it has been built to Apple's guidelines for human interface. Experience the new Dark mode in Auto, Light and Dark.
Multitasking
Multitasking is even easier with macOS Big Sur. Use multiple apps with Bigin on the same screen, split to increase your productivity. Also when you need to print a section, you can directly connect to a printer right from the app.
Keyboard Shortcuts and Widgets
From the sidebar to activities such as calls, tasks, or events inside the app, we have you covered with keyboard shortcuts. Bigin for macOS Big Sur gets the same keyboard shortcuts from the iPad app.
Speaking of shortcuts, all the widgets from iOS 14 are available for Big Sur as well. Keep up with your day without ever having to open the app, just like in the new iOS.

Hover actions, touch bar,
and menu bar
You can now simply hover over an action button and it tells you what a specific action can do for you. The touch bar still assists you with contextual actions while the menu bar lets you toggle between different modules in Bigin.
watchOS 7
Bigin now gets a dedicated complication on the watch face. You can now simply click on it to perform any of the listed activities. All Bigin shortcuts like calling, scheduling a task, or creating an event can also be performed right from your Apple Watch.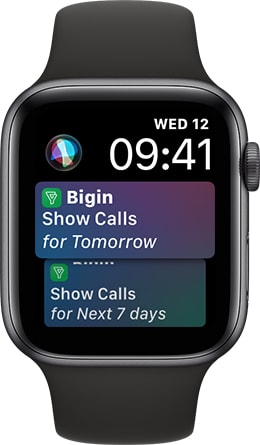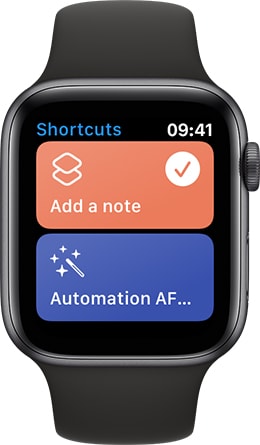 The same, fully loaded app across all devices.
Do it effortlessly.
Let's Bigin.
Access Bigin
Sign Up For Free
No forced contracts. No credit card for sign up. It's our promise.