Let's Bigin together!
We invite partners and affiliates who are willing to work with us and spread the word about Bigin to a wider audience. Earn attractive commissions and the opportunity to join Zoho's global partner network that's changing the way businesses work.
Become a Reseller partner
Become an affiliate
Already a partner? - Login to your partner portal.
Why sell Bigin?
There is an unprecedented need for small and micro businesses to go digital, and CRM plays an important role in their digital transformation journey. Small businesses all over the globe have realized that managing customer information on spreadsheets and other legacy tools are simply time-consuming and messy. They need a solution that does not cost them much in terms of implementation and learning curve. Bigin believes our partner ecosystem can help us empower millions of small businesses around the world with a simple-yet-powerful solution that they can always count on.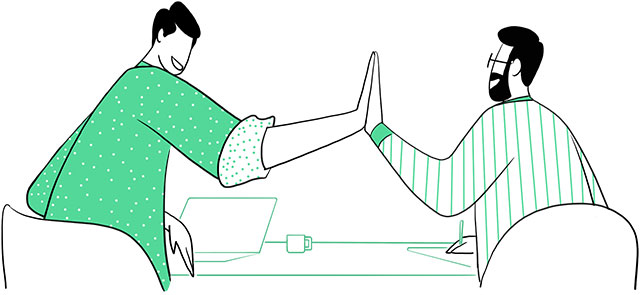 Ways we can work together
The Bigin partnership program is broadly classified into two major categories. The Reseller partner program is for business consultants who would understand their client's business process, and implement the solution from scratch. The affiliate program is for anyone who wants to refer quality leads to us so that the rest of the sales process is handled by the Zoho team.
Reseller partner

Affiliate
Become a Reseller partner
Since its launch in May 2020, Bigin has grown to be the popular CRM choice for small businesses and entrepreneurs all over the world to get started with organized selling and building lasting customer relationships. As an authorized Reseller partner, you will help clients implement our simple, easy-to-use CRM software for their business. You will support them throughout their implementation journey and receive attractive commissions for every qualifying sale you make.
How it works
01
Register
Sign up for our Reseller partner program, and provide us with the basic details about your business and expertise.
02
Review
Our Partner team will review your application, and after a positive confirmation, you will be added to our Partner network.
03
Get onboard
We'll induct you into our Partner community and list your information on our website. Get priority support when needed and start your journey with us.
We're offering you a community for growth—now and in the future
When you sign up as a Bigin Reseller Partner, we also open up a range of opportunities for you to grow within the Zoho ecosystem. You can become a certified Zoho CRM partner and increase your revenue potential. It does not stop there—you can also partner with us on any of our other 45+ apps in the Zoho universe, and become a Zoho expert in no time.
Do you work on large-scale
CRM implementations?
We have an opportunity for you as well. Because of its lighter and easy-to-use nature, Bigin has become the ideal front-end CRM that can be connected with other full-fledged CRM systems in the market. Bigin can be the CRM system of choice for field sales reps, sales development representatives, and other users in customer-facing roles, who do not need a full-fledged CRM for their day-to-day operations. You can easily integrate Bigin with popular full-fledged CRM platforms such as Zoho CRM, Salesforce, and Dynamics, and provide a custom solution for organizations that want a mix of both easy-to-use and fully-functional CRM systems for different types of CRM users within their organization.
Become an affiliate
This program is a perfect fit for businesses, industry bodies, trade associations, website owners, and influencers who are interested in promoting Bigin to their wider network and earning suitable rewards once their referral becomes a paying customer.
The program is free to join, and there are no minimum sales requirements.
Testimonials from our partner community
Zoho is a must-have weapon for every business owner to convert their leads into paying customers and grow their business profitably. Zoho is not just another cool cloud applications provider. Zoho Product Management, Sales and Support team have been exceptional. They will surely leave no stone unturned to deliver an exceptional customer and partner experience.
Zoho has transformed our business completely. Originally a Sage consultancy, we noticed how Zoho was constantly innovating and developing their products, really making progress in the CRM space. When demonstrating different Zoho apps to prospective clients, we saw how easy it was for them to understand the value we were presenting to them - the software really shines in demos with its modern UI and simplicity of use; their relatively inexpensive pricing is an added bonus.
I love being a cheerleader for the Zoho Suite of products. The bottom line is that Zoho makes it easy for us to design systems that assist our customers in making more sales and meeting the operational needs of their entire organization. After being in the business for over 25 years and supporting other CRMs, the decision to become a boutique firm that exclusively supports Zoho apps was easy, since I was so impressed with the apps, the product managers, the support team, the managements philosophy, and their ethics.
Arnab Bandyopadhyay
CEO, GoldenLion
James Converse
Founder, ZBrains
Susan Clark
Owner, Cornerstone Solutions, Inc.