Bigin for
everyone
Our most comprehensive update yet gives small businesses and teams ultimate control to unify customer operations on one platform.
GET STARTED
Watch Overview Video
Not just another update...
Our biggest move yet towards changing the way your
customer-facing
teams work!
Truth
Customer relationships are multi-dimensional. However, most CRM solutions that currently cater to small businesses are one dimensional—built to handle only one type of customer operation: sales.
Problem
Customer-focused operations such as onboarding, delivery, support, feedback collection, and other such tasks are disconnected and siloed. Since these operations can't be tracked in a CRM solution, businesses either have to invest in individual solutions or use spreadsheets to manage them all.
Solution
Small businesses and teams need a CRM solution that connects every type of customer operation but is still easy to use.
Say hello to Team Pipelines!
A new Biginning to teamwork
After spending a substantial amount of time learning how our customers use Bigin, we are pioneering the concept of "Team Pipelines" for the very first time in customer relationships.
With Team Pipelines, we're proud to offer your business a comprehensive CRM solution that can cater to all your customer operations—not just sales. Using a single account, you can manage your sales, marketing, onboarding, customer success, post-sales support, and every other operation in your business that requires customer interaction.
What's changed?
Pipelines for every operation,
optimized to make teamwork work!


"Pipelines" is now a new module in Bigin. Every customer-facing team in your business can have a pipeline of their own. Within a single Bigin account, you can have a sales pipeline to manage deals, a support pipeline to manage customer tickets, a marketing pipeline to manage your campaigns, and so on.
This way, your customer information remains intact within a single Bigin account, and can be accessed by all your team members, whenever necessary.
One main pipeline; multiple
sub-pipelines
Within every Team Pipeline, you can have multiple sub-pipelines to manage specific operations. Your sales pipeline can be split into a sub-pipeline for individual customers, and another sub-pipeline for corporate customers, or your support pipeline can have multiple sub-pipelines based on the type of issue or request your customers are raising.
Sub Pipelines
Inbound Sales
Outbound Sales
Sub Pipelines
User Adoption
Licence and Agreement
Sub Pipelines
Technical Assistance
Email Requests
Single Source of truth
All you have to do now is click on a contract to enjoy access to all the customer information secured so far. Your Bigin account can serve all your customer-facing teams as the single source of truth for customer data.



Teams are many, but the customer journey is one.
Be in the loop with Connected Pipelines
How do you keep track of your customers' purchase journeys as they traverse from one stage to the next? By creating connected records through workflow automations.
When a record reaches a certain stage within one team pipeline, you can set a workflow condition for the automatic creation of a new, connected record in an adjacent pipeline—followed by additional workflow conditions as the record progresses to even later stages. This way, your team pipelines are linked, your team members are all in the loop, and their operations are in sync.
Learn More



But it's not just Team Pipelines; there are
more capabilities coming your way!
Introducing Toppings
What does pizza, ice cream, and Bigin all have in common? Adding toppings makes all three of them even better.
Every business is unique with unique needs. Toppings are additional niche features you can add to your Bigin account to make it an even more suitable CRM solution for your business.
While we're working on an exciting range of toppings, here are a couple of examples that are already published and available to you!

Email-In
Do you own multiple email aliases for your teams? With every team constantly receiving a huge volume of emails, how do you stay organized? With Email-in, all your team emails automatically convert to records within the relevant team pipeline in your Bigin account.


File Cabinet
Do you sometimes spend hours trying to locate that one document your customer shared just a few days ago? With File Cabinet, a single link is all you need to secure documents from your customers and share documents with them. These documents can be permanently associated with the relevant contact and stored within your Bigin account.

Toppings can also extend to your
favorite apps. Here's an example!
Bigin for
Microsoft Teams
Bigin is the first CRM solution to offer full-fledged pipeline management from within Microsoft Teams. Keep the customer information in your Bigin account up to date and in sync with the latest communications from your team calls, group chats, and customer meetings.
Learn More
No more switching between applications
Add Bigin as a tab to your conversation channels, and enjoy access to your pipelines from inside Teams. Create new deals, drag and drop them between stages, add notes, and keep your customer information up to date with the most recent communications.

Bigin as a messaging extension
Instantly share your contacts, companies, and deal details through your chats and conversations in microsoft Teams exactly as they're stored in your Bigin account. This helps in continually setting the right context for all your conversations.

Anyone can #BuildWithBigin
Ready, set, and go with the brand new Developer Center!
We are inviting all app developers (and the developer in you as well!) to #BuildWithBigin. Your business may sometimes have unique requirements that aren't addressed by the toppings currently available in the Bigin marketplace. You can combine the powers of widgets, Deluge functions, and APIs to create toppings that can serve your own business needs, as well as those of fellow Bigin users.
We also offer you an incredible earning opportunity! When your topping is ready, you can share it in Bigin's marketplace, set your own pricing, and start earning for subscriptions.



What about our mobile apps?
Bigin is committed to being mobile-first, now and always. Staying true to this, our new Team Pipelines feature is compatible with and available on all devices. Additionally, we've introduced some exciting features to enhance your user experience on the latest Apple and Android devices, ensuring that you stay productive even when you're on the go!
Dynamic Display for List view
Enjoy granular control over how your information is displayed in the list view by customizing which fields you wish to see, how they are shown, and in what order they appear.
Our platform-specific enhancements
iOS 16
macOS

Ventura

iPadOS 16
Galaxy Z

Fold4
iOS 16
Now that Apple's iOS 16 is more personalized and business-friendly, this was the perfect opportunity for us to introduce new features to Bigin that blend seamlessly with this new version.
You can now pick Bigin widgets of your choice to be displayed on your lock screen and have instant access to business information that you need. It could be your to-do list of tasks, quick access to add new contacts, and so on.
Add new contacts in a matter of seconds! With Bigin's new QR scanner, just point your camera at a QR-coded business card and the details will be added to your Bigin account automatically.
Realtors can now create a model of the properties they're listing with this new feature. Capture the property on your camera and witness the magic as it unfolds.
These filters help you customize the Bigin app to help you remain focused, including setting your preferred theme, notification settings, your preferred record views, and so on.
Bigin can now keep you posted on the weather conditions for your scheduled events and meetings.
Instantly jot down your ideas and thoughts as you work in the Bigin app so you can always revisit your notes in the future as needed.
Bigin offers enhanced functionality by taking advantage of the built-in intelligence of Apple devices. For example, you can edit your product photos in a matter of seconds by simply erasing clutter from the background.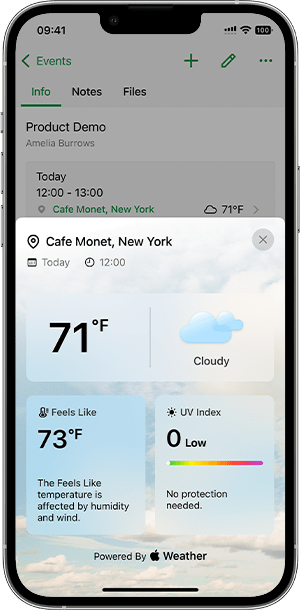 Check other Platforms
Get the best of Bigin with macOS Ventura
These newly introduced macOS features are in line with our quest to improve and upgrade the user experience continually for your MacBook.
Stage Manager
Open multiple Bigin windows and stack them neatly on the side of your screen for quick access. You can also resize windows and use them side by side with other apps.
Continuity Camera
You don't have to tilt and turn your Mac screen to capture images anymore. Use your iPad and iPhone as remote extensions of your Mac camera and transfer them to your Mac.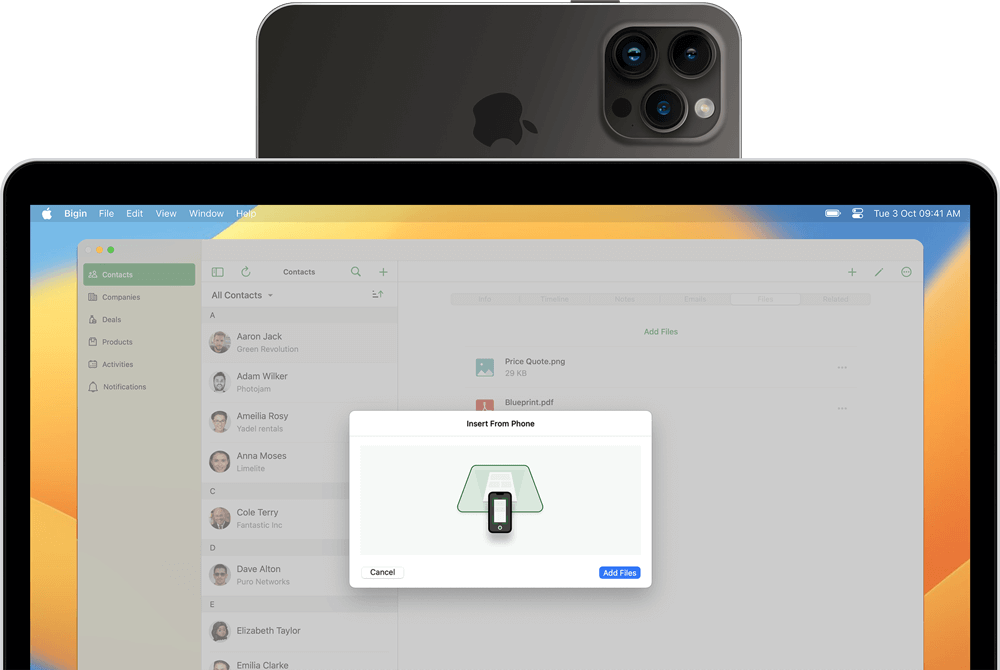 Check other Platforms
iPadOS 16
Enjoy a desktop-like Bigin experience on your iPad with the introduction of these new advancements.
Find and replace
The convenient "find and replace" option we all know and love is now available for your notes in Bigin.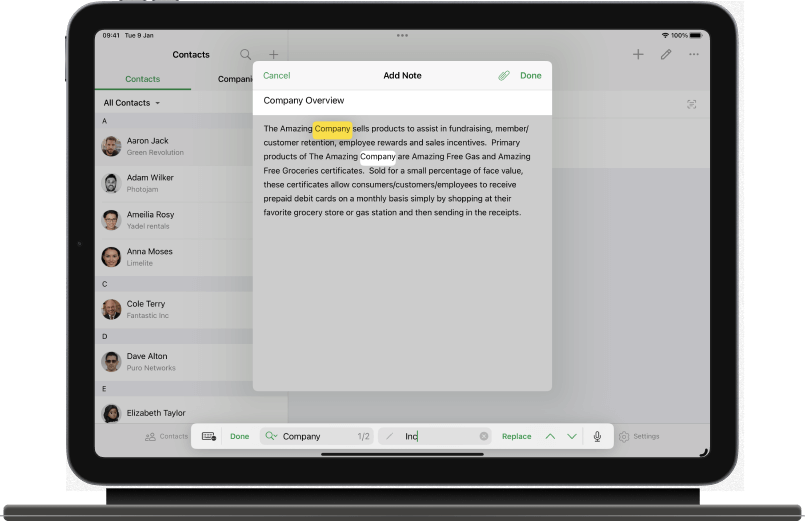 External display support
Work with Bigin on multiple screens and complete tasks faster and more easily. Connect your iPad to a larger screen and use all the extra screen space to open multiple tabs and screens.
Check other Platforms
Bigin for Galaxy Z Fold4
The Bigin team has worked closely with Samsung to incorporate the exclusive features of their latest Galaxy Z Fold4, making it the ultimate CRM choice for business owners.
Flex Mode
Fold your phone and simultaneously work on multiple screens. Open your deal information on one screen while taking hand-written notes on the other. Also, watch your handwritten notes automatically convert to neatly typed text.
Watch Overview
Drag and drop
Use one swift move to transfer files, images, text, and other documents within your Bigin app.
Watch Overview
Adaptive layout
Bigin blends in with all your devices and perfectly fits all screen sizes. We promise you the best experience on every device you use.
Watch Overview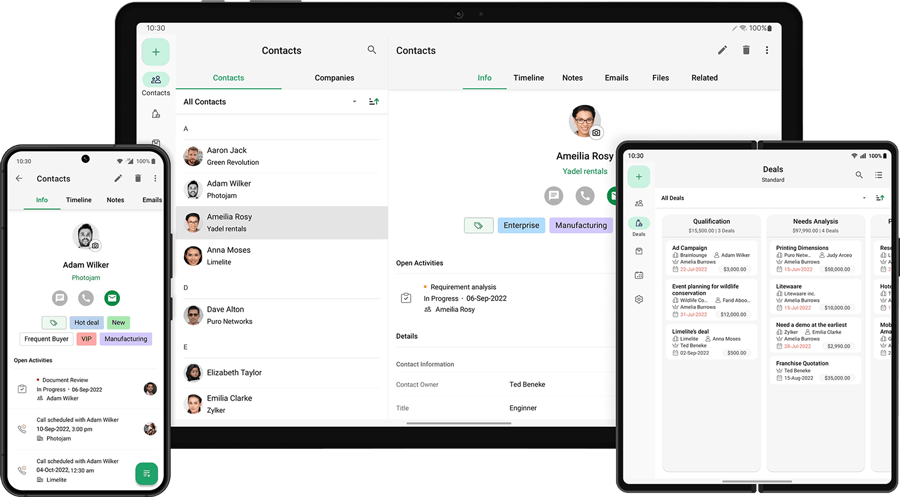 Multi-instance
GalaxyZ offers you a large screen, so put it to good use! Use the split-screen view to open multiple instances of Bigin simultaneously, or use multiple tabs in other views.
Watch Overview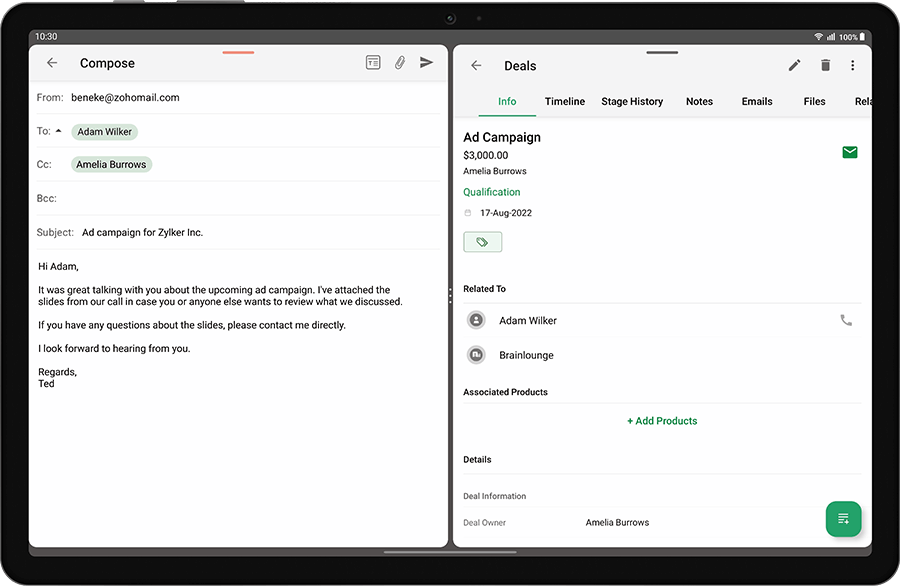 Samsung Dex
Set up an ecosystem with your exclusive choice of devices. Open different sections of your Bigin account across multiple devices and enjoy a seamless experience without any performance gap between devices.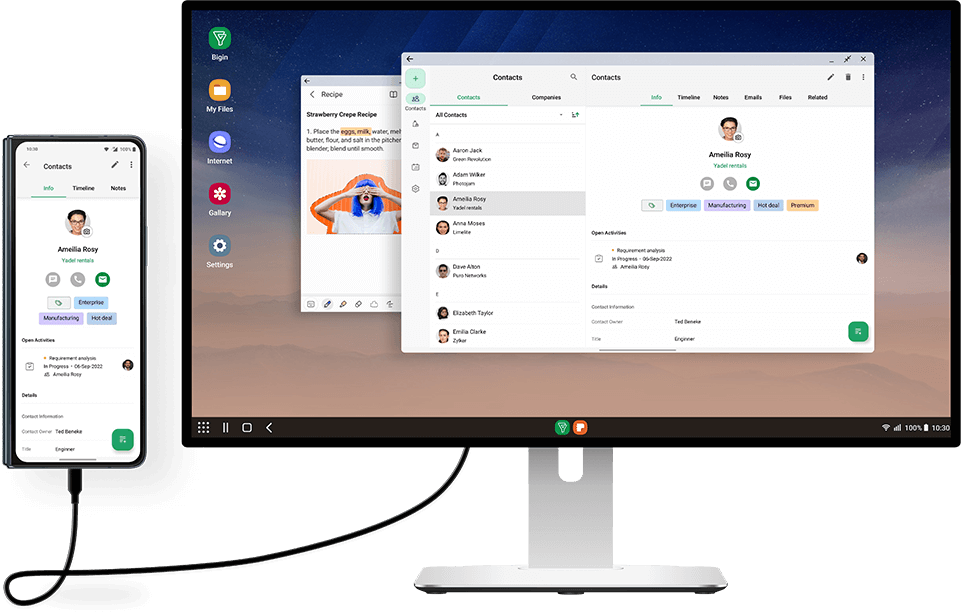 Check other Platforms
A sneak peek of what you can expect in the next few months
WhatsApp Integration
Integrate your Bigin account with the most popular messaging app to directly connect with your leads and customers, and grow your business.
Booking Pages topping
Create booking pages to share details of your availability with customers and manage bookings on your website.
Calendar view for Activities
A calendar view helps you plan and execute your to-do lists better because they give a clear picture of your scheduled tasks and activities.
Showcasing some of the love for our new updates!
Recently Bigin introduced Team Pipelines and since the launch of this new feature, we are able to excel in other business pipelines such as our active projects, marketing, and after-sales. This intuitive new feature made it possible for our team to have a 360-degree view and be able to use a single platform for all our business management and communication needs.

Dawid Roux

CEO,

V4 Creative

The new team pipeline feature is very helpful for us. Earlier we were using Bigin only for sales pipeline and there was no way to manage our multiple process pipeline at once place. Now we have created our project pipeline too in Bigin. This has made the process easy to manage without hassle of managing different apps for business process pipeline.

Nidhi Tyagi

Director,

iBrand Consulting

We have been using Bigin's new pipeline feature "Teams Pipeline" and it has completely transformed the way we manage our sales process. The ability to easily track and organise leads, set reminders, and move them through the multiple pipelines with just a few clicks has saved us much time and hassle. The interface is intuitive and user-friendly, making it easy for our team to stay on top of our various pipelines. I highly recommend using Bigin's Team Pipelines feature to anyone looking to streamline their processes.

Josh Luftig

Manager,

Ainsworth Property

This feature lets me know how engaged my email list is. Love it this is a must-have tool as it lets my team and I know what messages to tweak and what we've done right!

Jennifer Jackson

CEO,

Beauty Industry Elite

Really enjoy the new features and design, the layout is easy to follow and navigate, it makes it easy to keep everything focused and together.

Ephraim Byler

Co-Owner,

Byler's Relish House, LLC
The team pipelines feature will be helpful for multiple teams and not only focus on the front-end team. Overall outstanding features.

Raghvendra Kumar

COO,

Tulsea Media Private Limited

What I like the most- permissions for specific pipeline, templates, sub pipelines are great.

Muaadh Muaadh

Owner,

You for information technology

Bigin pipelines is definitely a great addition to our Bigin setup before. It is great that you can combine Sales, Customer Success, Tickets, and After-Sales in a single tool. It did help us a lot and we are actually working with the entire team in Bigin.

Christiaan Jaarsma

Sales.Rocks BV,

Christiaan Jaarsma

Very good. Excellent customer service. Works as expected and if something goes wrong the lice chat feature really helps. Issues get fixed first attempt or at the very least on the same day.

Thomas Wilson

Owner

TW Printing

Teams pipeline is very much useful for our organization. We can have Teams pipelines which covers multiple operation related work. This is a complete solution required for an organization.

Gopi Kannan

Business Development Associate,

Josh Tech Services Pvt Ltd

I used to be a Daylite customer, but last year I switched to Bigin. I'm very happy with it. Daylite supports strictly Apple environment so it is not suitable for us anymore. Bigin flexibility to use it on Windows and Apple platforms is deal maker. I love the pipeline feature. It put every deal just in front of me and with blink of eye I can see what needs to be done.

Daniel Jesensky

CEO,

Skyon
Brilliant feature, now Bigin not only has sales pipelines, but all kinds of pipelines catering to all industries. Plus, now one organization can handle multiple teams with multiple goals, from one CRM system.

Apratim Banerjee

Technology Head,

Cleanomatics Solutions

This new Pipeline system in fantastic, it helps assign the entire sales and support cycle whilst keeping all team members and stake holders informed and up to date. Go team Zoho once again!!

Shuaib Merchant

Partner,

AShuaib Merchant

The inclusion of the new class of non-sales pipelines was a great idea by Zoho Bigin. Now we can include the stages of development and support of the Agency's services.I can't wait to get access to the next big Bigin updates. My current and definitive CRM!!!

Henrique Felix

CEO,

Agência Planner

We have recently got this new feature "Team Pipeline" and we have implemented with in our User base and different departments. It has made our work flow very smooth and easy. Kudos to Team Zoho for this wonderful innovation.

Abhishek Jain

CEO

Tripplanners

My experience with the new team's pipeline was smooth, easy to use and effective.

Christopher Nel

Business development representative,

KTOB

So far this new upgrade has been extremely beneficial as it opens up new segments to our process that can be looked at more granular. As we are moving into 2023 we are going to be utilizing us to help us as well with more strategic management of processes that we have moving concurrently. So it should help us be more efficient and effective in managing the business.

Will Hall

Super Admin,

Heartland (VA2)
I wanted to find a simple but efficient solution for the workflows. Starting a business without the right tools could be a nightmare, fortunately Bigin allowed me to start without worrying too much about all the setup of other CRM commercial solutions. Furthermore, the simplified experience of a CRM focused on small business is everything you need to start.

Luis Guzman

CEO,

falcani LLC

The addition of Team Pipelines allowed me to stop using the Standard Pipeline as a process tool and have it dedicated to sales. I've set up to process pipelines and was up and running in minutes. Very helpful to my staff and my oversite!!

Jerry Cady

Owner,

Stellar Cellars

Wow! I'm happy to see how Zoho moves forward toward simplifying working lanes! I see how every day most organizations spend time and effort fighting complexity while should be focusing on creating value. Following and living the same mindset for Sales/MKT/CRM/People is the way to go! we can quickly jump from one area to another with no effort.

Juan Barrirero

CEO,

Pearster Global LLC

Seamlessly allows potential leads to request info and create opportunities without CRM data entry on my part.

Matthew Monterroso

SVP,

Commercial Asset Advisors - Matt Monterroso

We are very small company and engaged in solution for Home Automation & Security Products. Initially, Bigin was purchased for Sales. Eventually, we started to use it for repairing process. Now due to separate pipeline and fields, we use it more effectively. Team Pipeline helps us a lot for smooth process of repairing activity. Now, we are also going to start implementation for customer On-boarding (Onsite Call) using Ticket creation and related process.

Rikesh Shah

Proprietor

Navkar Automation
Experience unified
customer-facing

operations.
Try the all new Bigin. GET STARTED