Let's face it. CRMs are built with one core objective—to manage lead and customer relations across the different stages of the sales pipeline. All the bells and whistles come much later.
Bigin brings you everything you need in a solid CRM with a "less is more" approach. It comfortably balances the power of CRM with the simplicity of a spreadsheet at a fraction of the cost. Bigin is light, agile, and effortless—you can set it up from scratch, and get started in 30 minutes or less.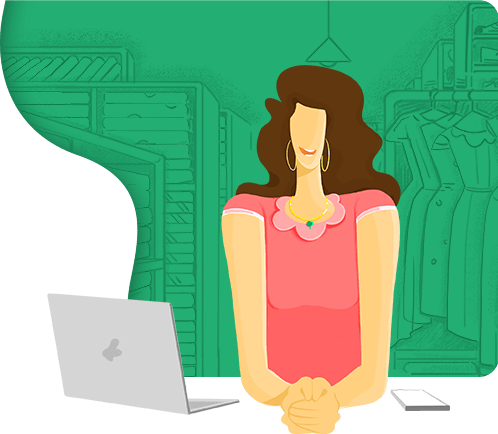 A CRM for the up-and-coming
entrepreneur
The market vastly differs between larger enterprises and small businesses. They basically belong to completely different weight classes. BizSugar's small business survey discovered that enterprise-level organizations value sales and customer support equally, while small businesses have their unwavering attention on sales. For larger enterprises, automation of workflows also plays a crucial role, while small businesses overwhelmingly stick to a DIY approach.
The challenge is to sell more, while doing most of the selling yourself. The answer is a CRM that is not too big, not too small, but just right. When it comes to catering to small owners, Bigin is unrivaled in its class.
Area of Business In Need of
Most Attention
Sales vs Service
Tracking New Initiatives
- Too Much DTI
DIY VS Automation
BizSugar Small Business survey, May 20

"Many SMBs rely heavily on spreadsheets to run their business. And, while spreadsheets are great for managing numbers, they aren't great at managing relationships with customers. Which is why using a service like Bigin—built specifically to help very small businesses find, catch and keep customers—can improve the likelihood of creating great customer relationships."
Brent Leary
CRM industry analyst
Why other alternatives fail
When it comes to managing relationships, nothing beats a CRM, and for small businesses, no CRM beats Bigin.
Why you
need to
get rid of...
Spreadsheets
Kanban charts
Other entry-level CRMs
Spreadsheets
Spreadsheets are for numbers, not for people.
They may seem practical at first considering the size of your business. However, you miss out on so much convenient tech that could single-handedly change the way you do business.
Spreadsheets are time-consuming, don't process information, and have become borderline irrelevant. Riddled with inefficiency, there are so many things that could go wrong with spreadsheets.
More reasons why you should switch from spreadsheets.
Kanban charts
Kanban-styled tools may look like they are easy CRM alternatives, but practically, they don't even come close. Sure they are light, minimal, and functional, meaning you can set clear objectives and move along phases, but here are a bunch of basics they do not cover:
No customer context, meaning you still have to manually split tasks into phases
No automation, no creation of workflows
No actionable insights
Other entry-level CRMs
The unique needs of the small business market require a tailor-made CRM.
Although most CRM makers provide low-tier CRMs at affordable prices, the value for money factor still concerns many small and emerging businesses. It really is about what comes in the package, not how cheap the package is. This is where entry-level CRMs from major providers don't cut it.
Bigin is carefully built with functionality in mind, features that come in handy, and a bunch of cool stuff like indefinite free service for single-user orgs, making it the go-to CRM for small businesses.
Check out the following CRM comparisons:
Some of Bigin's first-in-segment
features include
Multiple pipelines
for customer operations
Multiple pipelines

for customer operations

Built-in telephony

with options for purchasing local and
toll-free numbers

Create and automate workflows

to easily automate many of your day-to-day tasks

Complete customer context

from emails to tweets, always stay updated on your contacts
See All Features





Seamless integrations
for G Suite and Microsoft 365 in addition to Zoho's native apps
Data migration
is a breeze, thanks to Bigin's
plug-and-play build.
The most affordable pricing in the Entire Industry
₹
400
/user/month billed annually
Once you've outgrown Bigin,
Zoho CRM is just a click away.
With Bigin, you're destined to grow as a business. When you have bigger challenges at hand, you can always
upgrade to Zoho CRM in a snap. It's that easy.
Give your business a head-start. Let's Bigin.
From set up to selling in under 30 minutes.
Try our 15-day free trial and we promise you'll never want to go back to spreadsheets.
(Psst! We also have a forever free edition if you're a single user looking to get by!)
Access Bigin
Sign Up For Free
See Our Pricing
No forced contracts. No credit card for sign up. It's our promise.