Galaxy Z Fold4: A Bigin and Samsung duet
Galaxy Z Fold4: A Bigin and Samsung duet
Last Updated: October 12, 2022
318 Views
4 Min Read
Bigin's partnership with Samsung has been in the works since the beginning of 2022 and it's finally time to let the world know. It hasn't been easy keeping such exciting news under wraps, but now that everything's out in the open, there's cause for celebration. From whispering about it in the office to announcing all the details on a dedicated landing page, this has been an incredible journey for the Bigin team.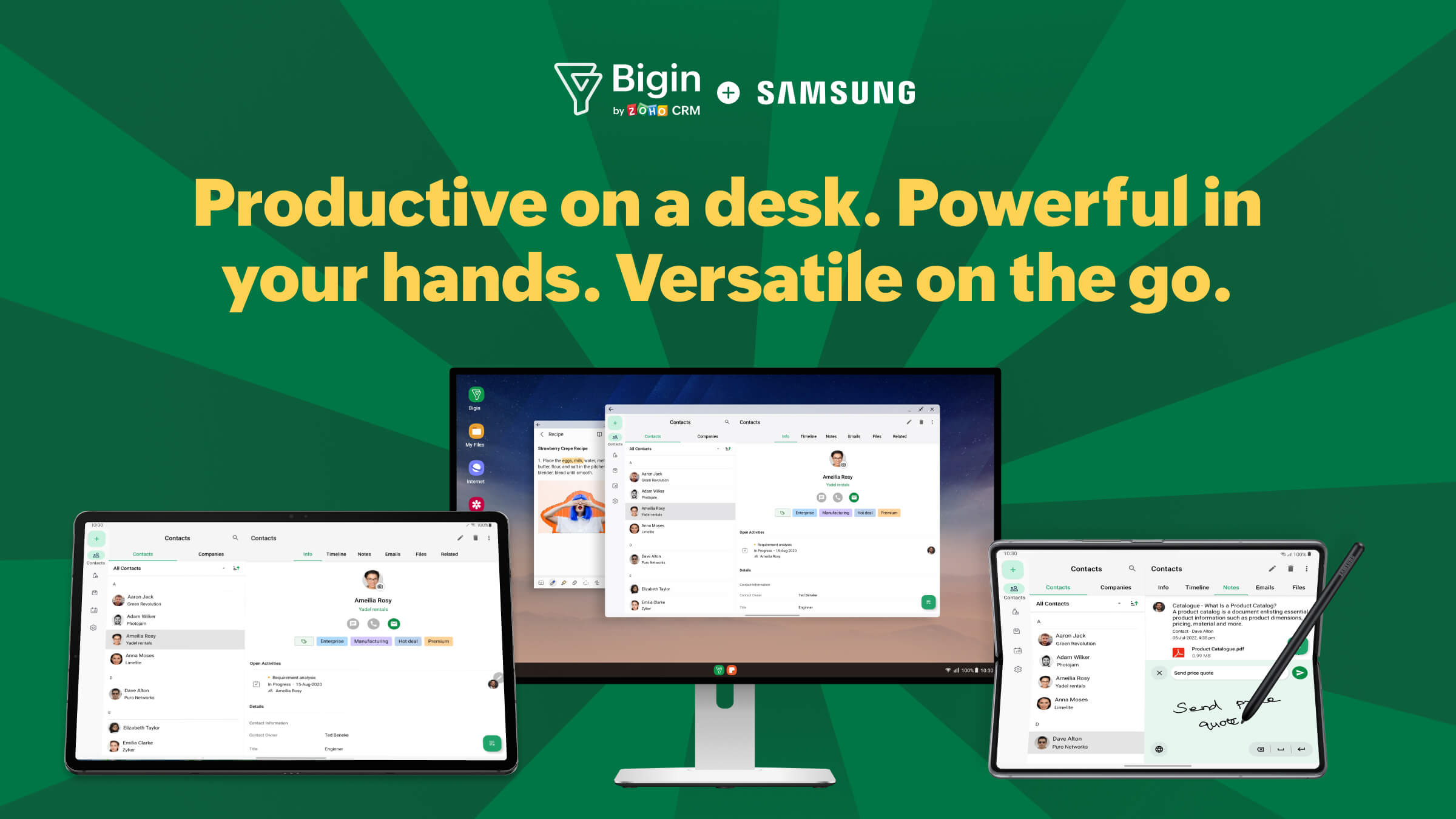 As the world increasingly moves towards a work-from-anywhere lifestyle, your favorite CRM is at the forefront of providing the tools and technology to make this possible. We've worked closely with Samsung to optimize the Bigin experience on their latest smartphone: the Galaxy Z Fold4. On a device that can be used as both a tablet and phone, Bigin bends the business world to your will. We can't wait to tell you all the details. Read on!
Flex Mode
The way Bigin helps users make the most of the Fold4's Flex Mode perfectly encapsulates Bigin's versatility. There's no compromise to user experience when your phone is partially folded. The transition to two screens is seamless, as the Bigin app is intuitively designed to adapt to the dual-screen orientation. Write comfortably on one screen while simultaneously viewing deal information on the other. Bonus: Bigin also supports the S Pen, so as you write, your handwritten text turns into perfectly typed words.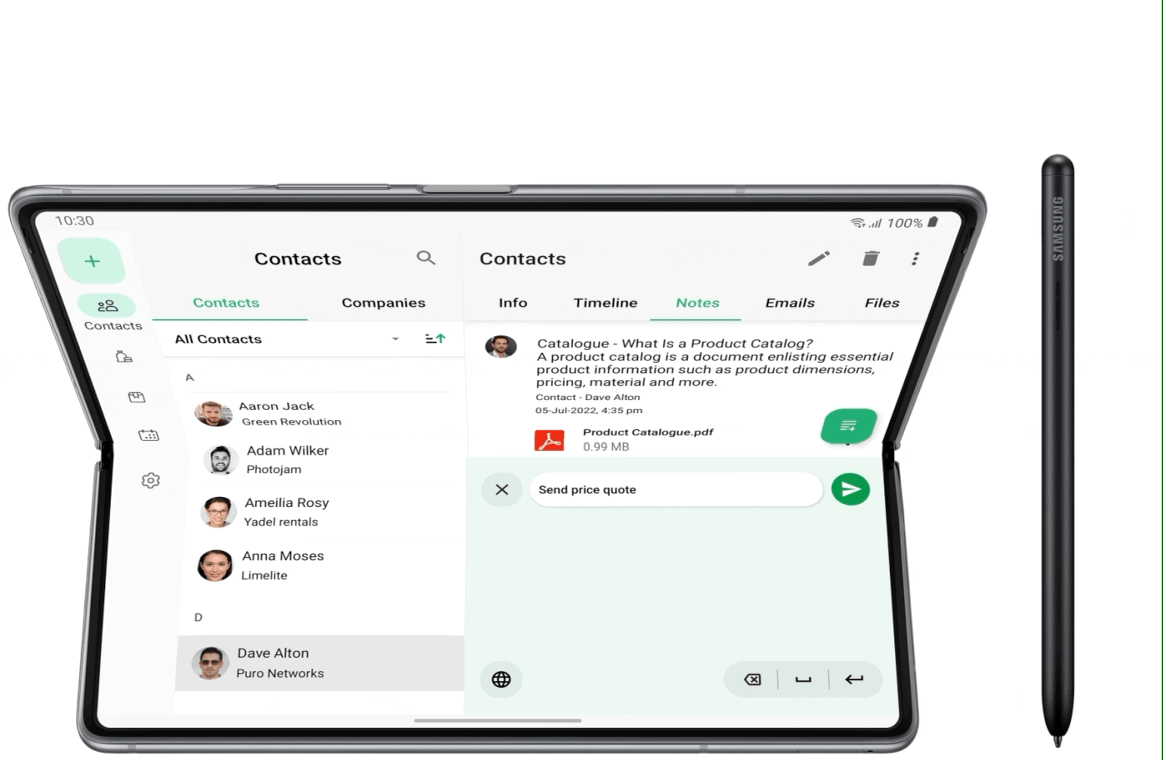 Drag and drop
We're here to streamline tedious and time-consuming activities. By introducing drag-and-drop support, we've made it quick and easy to move files from one place to another. With a simple drag and drop, you can move images, text, and other documents into emails or notes. The action is simple to perform. Here's how: Hold your finger on a file until it lifts from its background. Then, without taking your finger off the screen, drag it to your desired location and drop it there.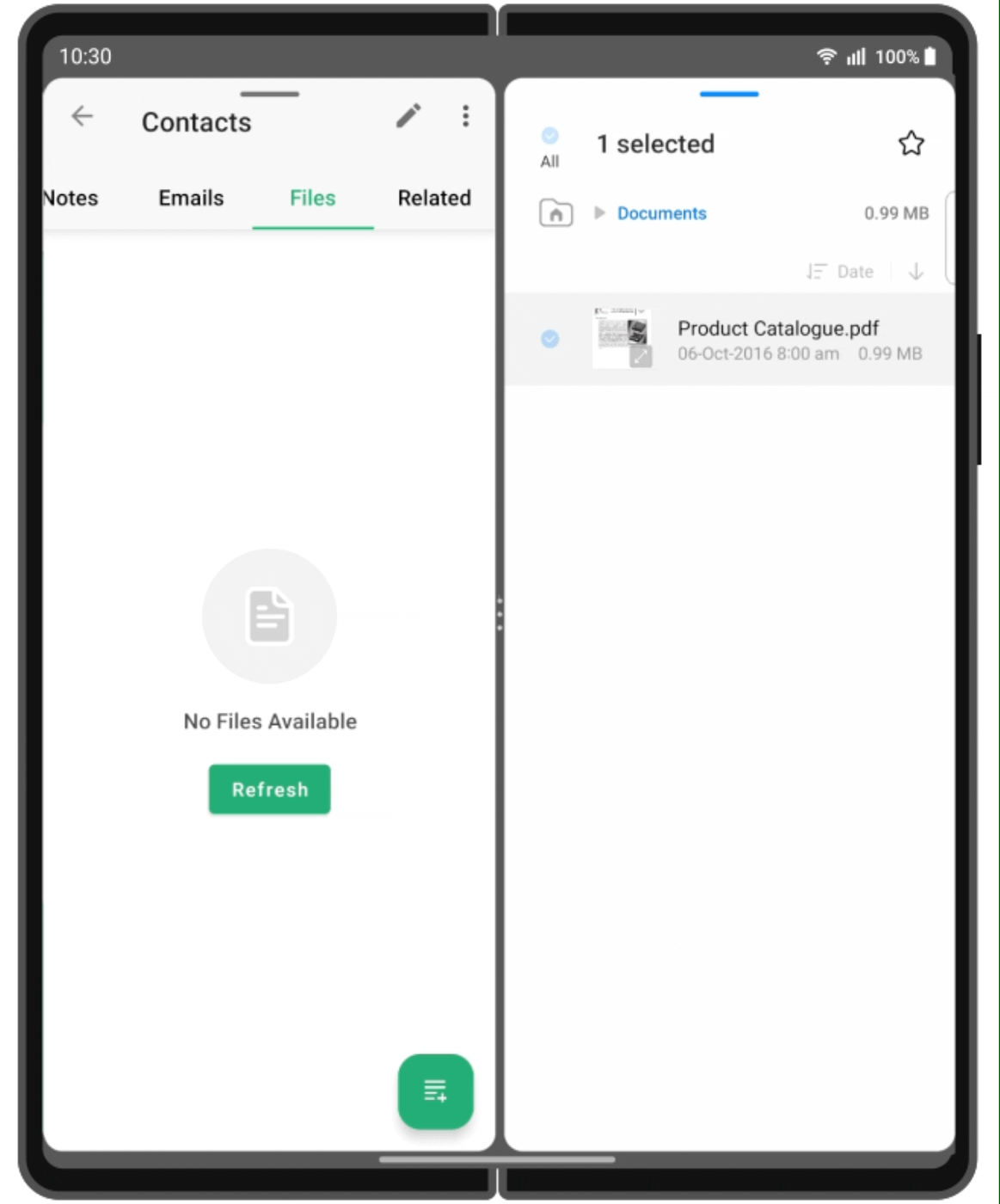 Adaptive layout
Screen size doesn't matter. Whether you're using Bigin on a laptop, tablet, or the Fold4, the app adapts to the available screen real estate to ensure the user experience never suffers. When you launch Bigin alongside other productivity apps, you'll quickly realize how natural it feels to work with multiple apps on one screen. Bigin does all the UI acrobatics necessary to blend in perfectly.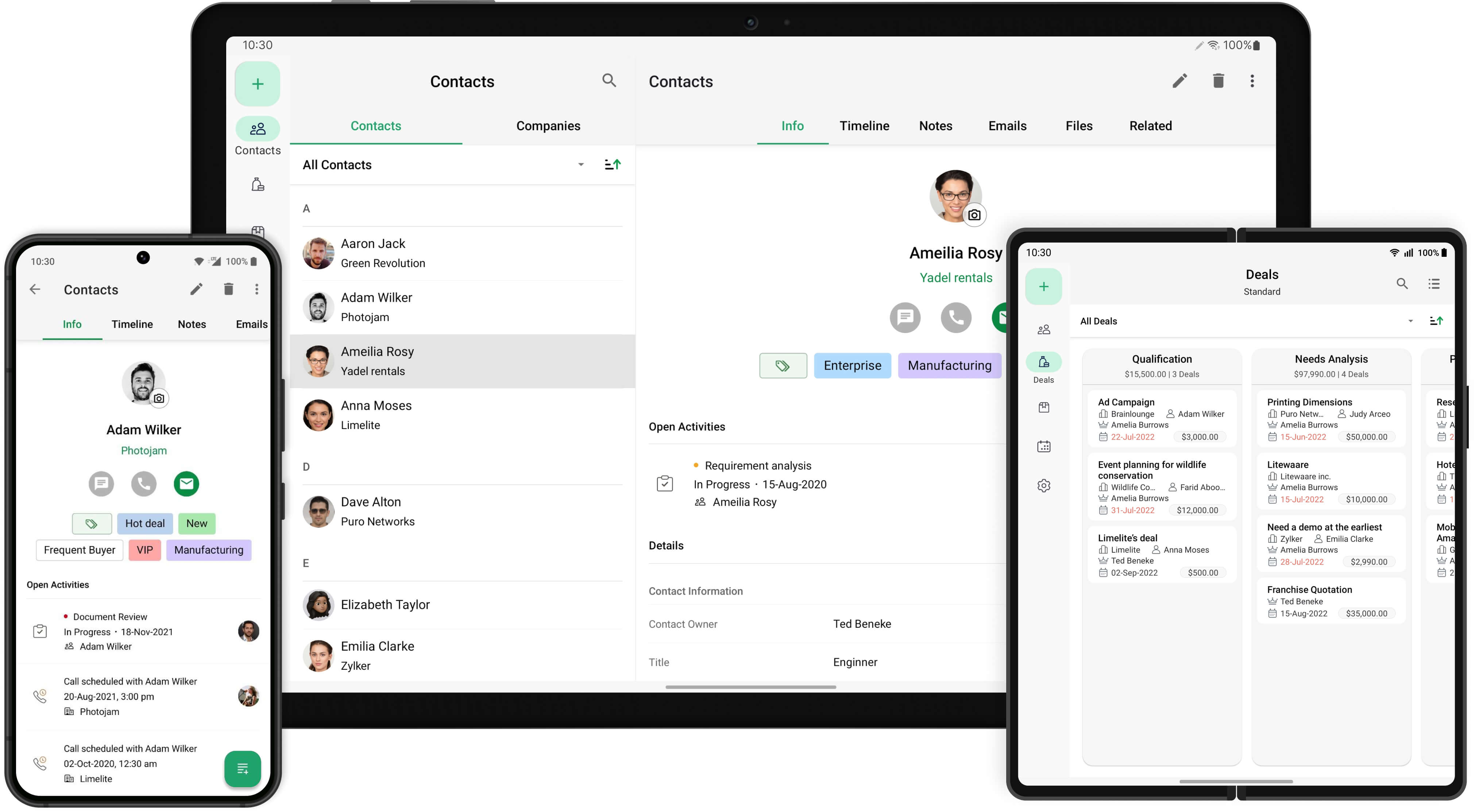 Multi-instance
If you want a device with impressive dual-screen capability, look no further than the Galaxy Z Fold4. Enjoy the convenience of having multiple instances of Bigin open simultaneously in a split-screen view when the phone is being used as a tablet. You also have the option to switch to another view with numerous tabs if that's your preference. In any case, you'll be able to get more done on a clutter-free screen.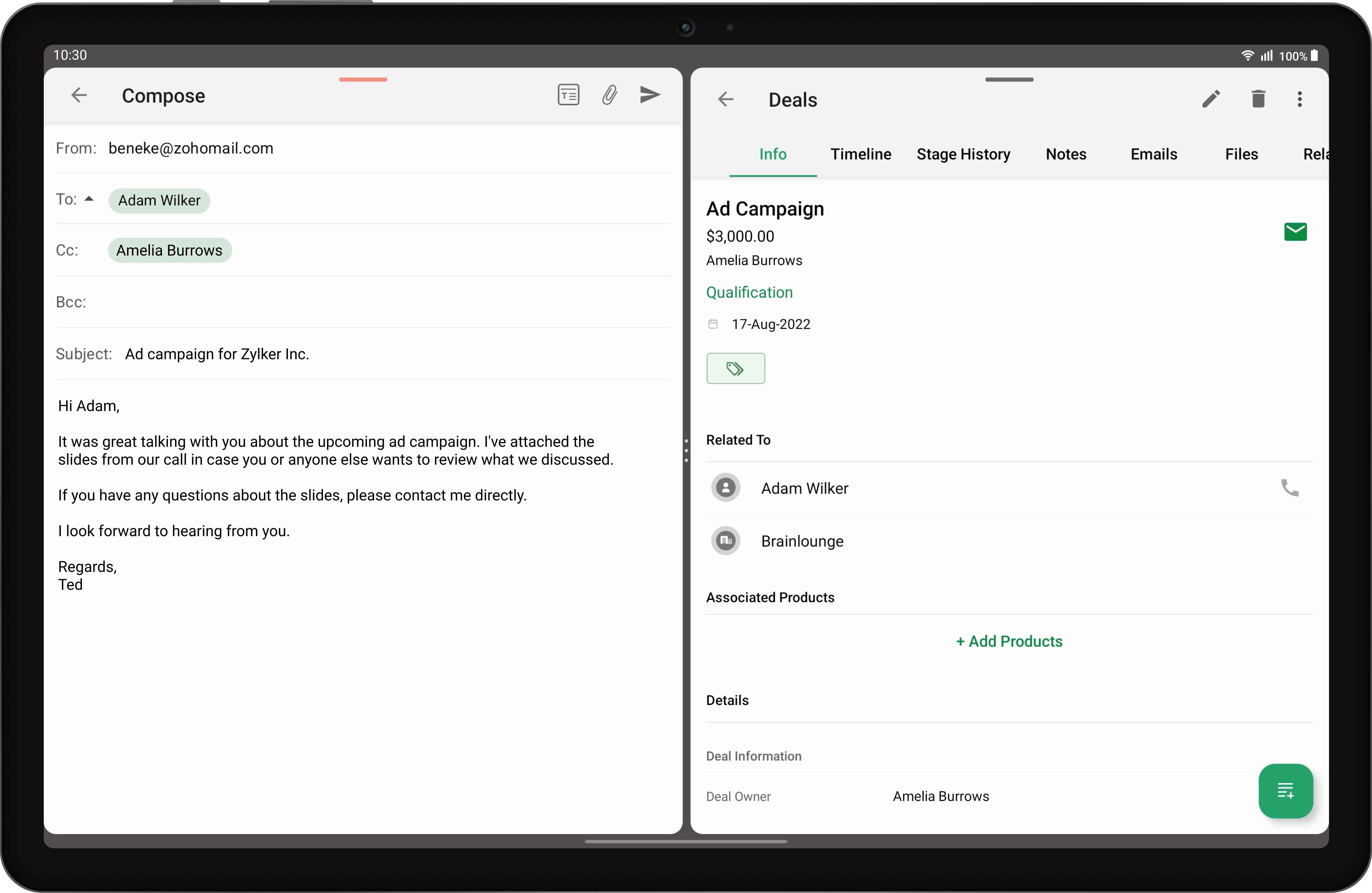 Samsung DeX
You can connect all your preferred devices in one convenient digital environment for a desktop-like experience—all thanks to Samsung's DeX Mode. Improve your multitasking with a second screen. For example, as you go through your day's agenda on the Bigin mobile app, review your pipeline on your TV or monitor display. Because of how well Bigin works with DeX, the performance gap across these devices is practically nonexistent.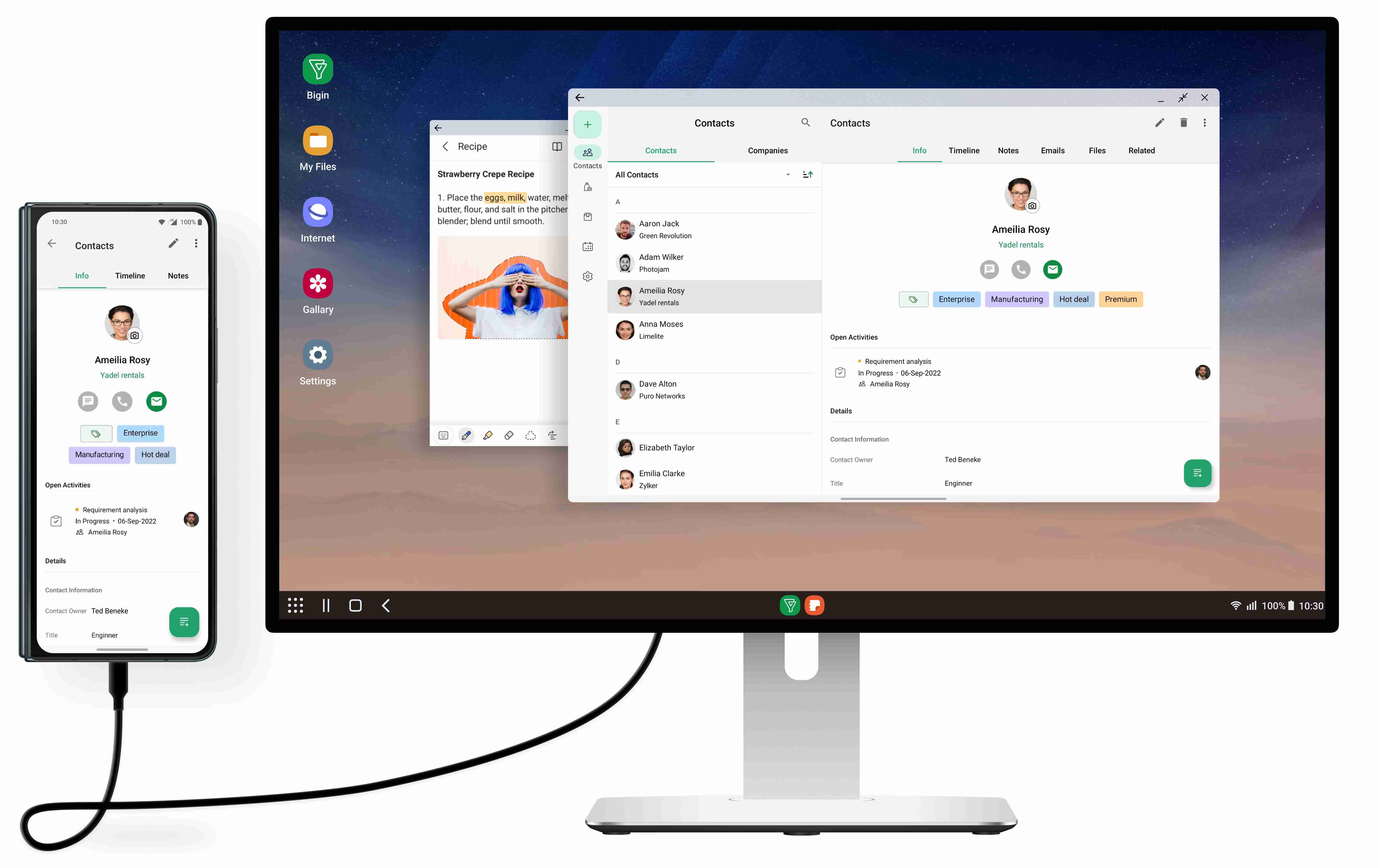 Hitting all the right notes with Samsung
We're thrilled that the tech giant has recognized the hard work we've put into developing unique features and capabilities for Bigin on the Galaxy Z Fold4. It's great to be featured as a leading business app on the product page of their newest foldable device, and we're honored to be named at the top of a list of productivity apps that are particularly useful on the latest Fold. Bigin will also get some spotlight at the Samsung Developer Conference happening in San Francisco today.
A note from our team
"Our partnership with Samsung has enabled us to deliver seamless customer information and collaboration on the go with features such as Flex Mode for hands-free multitasking, a rich note-taking experience with the S Pen, and extending work to larger devices using DeX Mode. As businesses look to maximize revenue and retain customers in an uncertain economy, we're committed to offering an intuitive CRM experience for desktop, mobile, and now foldables—in order to achieve measurable business success and offer memorable customer experiences."

- The Bigin Team
We are constantly looking for ways to improve the mobile CRM experience for our users. Android is a great platform with a lot of potential, and we are committed to partnering with other companies like Samsung to explore that potential. Going forward, you can expect to see other strategic collaborations like this one.
No reason to delay. Download the mobile app today!
Leave a Reply
Your email address will not be published. Required fields are marked