iPadOS 16 and macOS Ventura: Get more done with Bigin
iPadOS 16 and macOS Ventura: Get more done with Bigin
Last Updated: October 24, 2022
205 Views
3 Min Read
If you're looking for more good news following our earlier iOS 16 announcement, you've come to the right place. We at Bigin have been patiently holding our upgrades for the Mac and iPad in reserve, ready to go live in tandem with Apple's rollout.
That time has finally come! Bigin's latest versions for iPadOS 16 and macOS Ventura are out in App Stores now.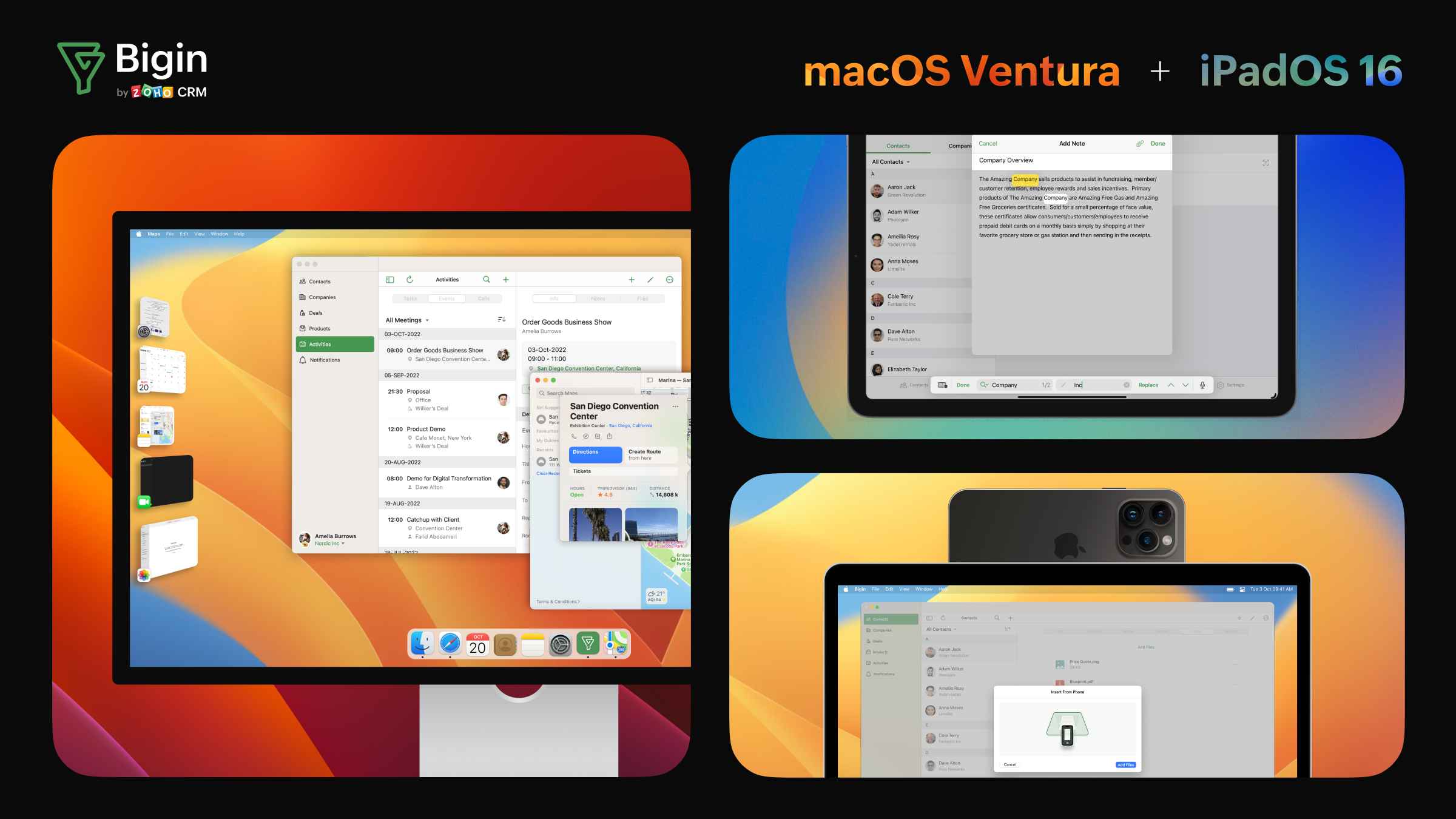 Continue reading this blog for more details on the new updates. This year, we set out to enhance Bigin's power, performance, and portability on Apple devices by integrating the most cutting-edge technologies into this update.
Let's take a look at what's new!
External display support offers extra workspace
A second screen can be useful if you're a multitasking whiz—and a really big one can make it feel like you're working at a desktop. Whether you're a whiz or just like one of us, Bigin empowers anyone to use this feature. When you connect your iPad to a bigger display, you can take advantage of the greater viewing area. Both screens can be used simultaneously. In fact, you can effortlessly move different Bigin tabs with info about deals, contacts, or even your pipeline between the two screens to use all the extra screen real estate. You'll never again have to compromise screen space to accommodate multiple tabs or squint to see information.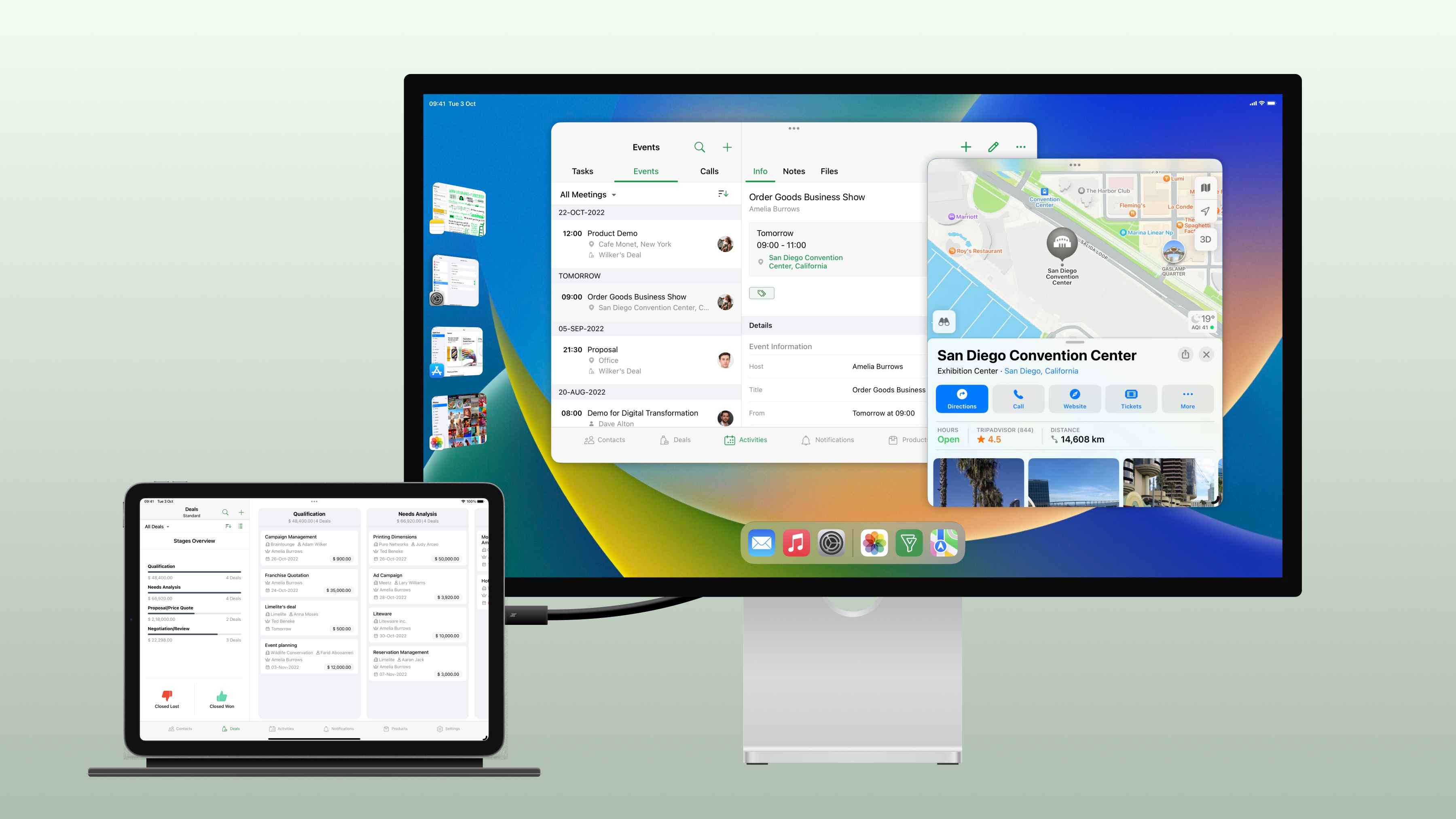 Find and replace can be useful for proofreading
We're almost certain you've used this feature once or twice at the very least. It's easy to figure out and easier to use—so you'll be happy to know that the Bigin app now supports this function. Let's say you accidentally spell someone's name incorrectly throughout an entire note. Use find and replace to discover all instances of the error quickly and easily and replace them with the proper spelling.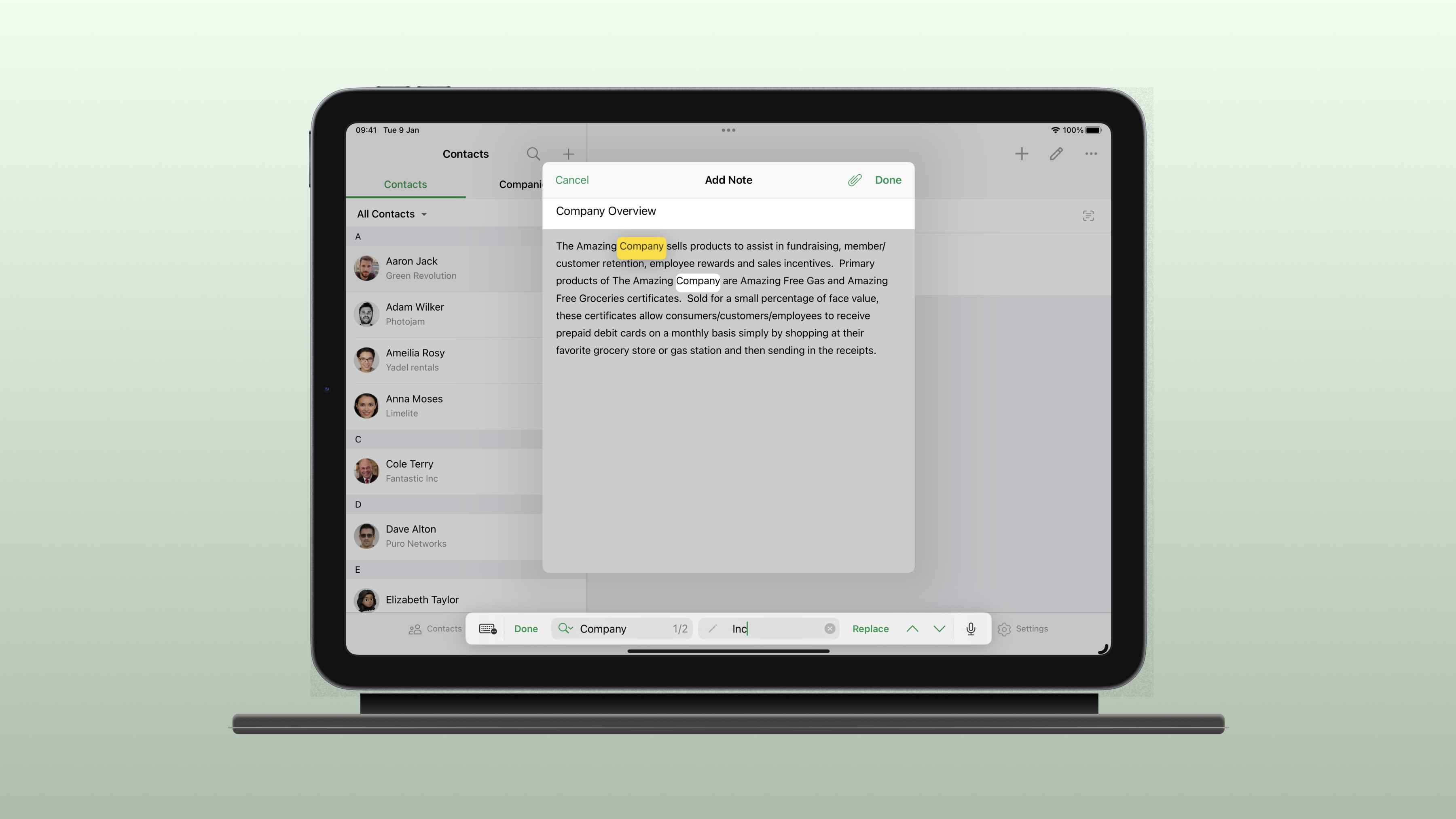 Devoted multitaskers are going to love Stage Manager
With Stage Manager enabled, you can quickly open multiple Bigin windows on your Mac and neatly stack them on the left side for quick access. Moreover, you can easily resize windows so Bigin can be used side-by-side with other apps. When two windows are opened simultaneously, they're paired together, enabling you to toggle between different pairs whenever you need to.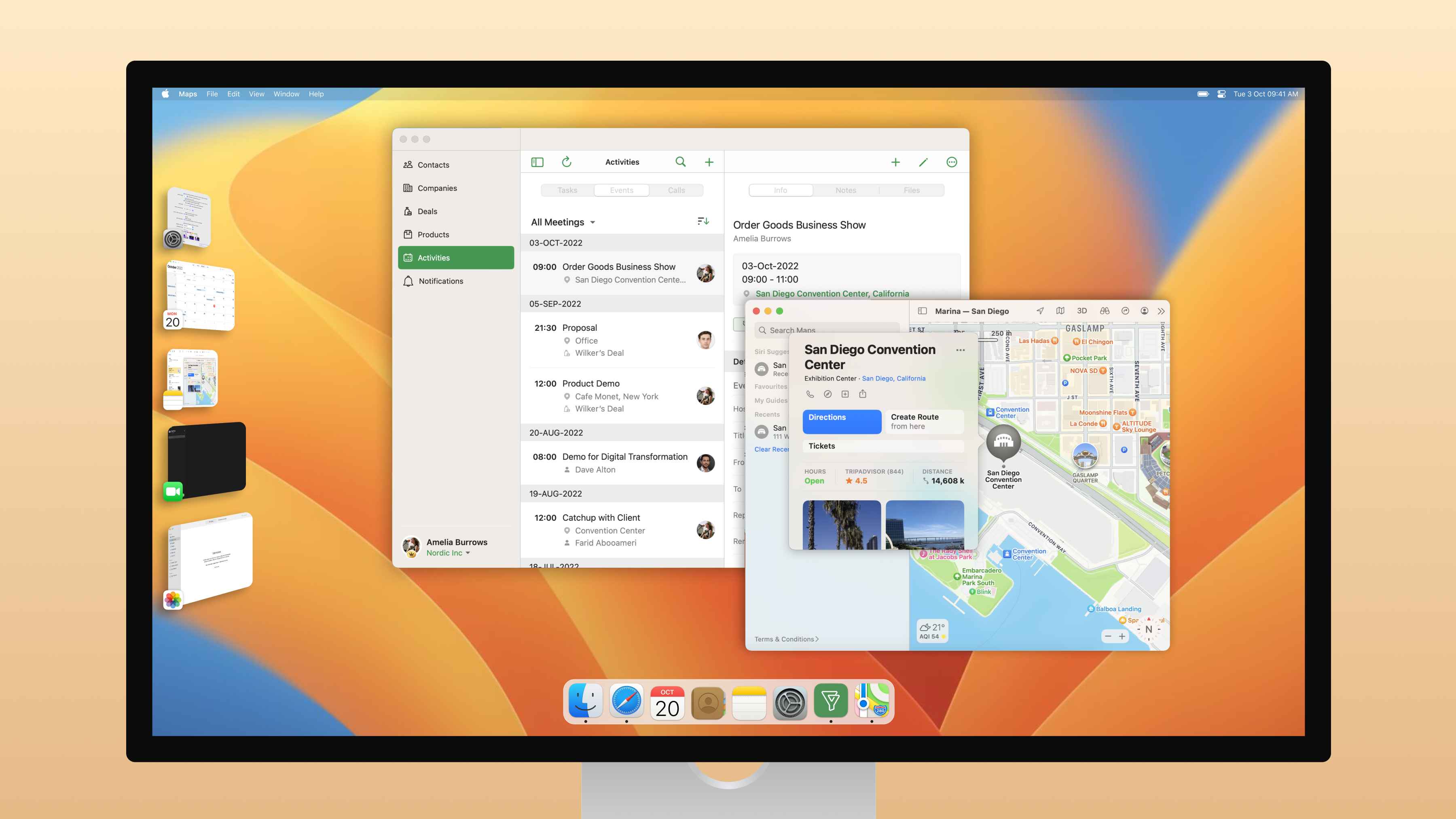 Enjoy remote access to your iPhone and iPad cameras with Continuity Camera
You're limited in what you can capture with a Mac's camera. If you wanted to snap a photo of the price quote on your desk, scan important documents, or capture the products resting behind your laptop screen, you'd have to twist and tilt your laptop in all kinds of odd ways. Understanding this difficulty, Bigin integrates with Continuity Camera. It's a useful feature that enables you to use your iPad or iPhone as remote extensions of the Mac camera. The photos you take are instantly transferred where you want them on your Mac.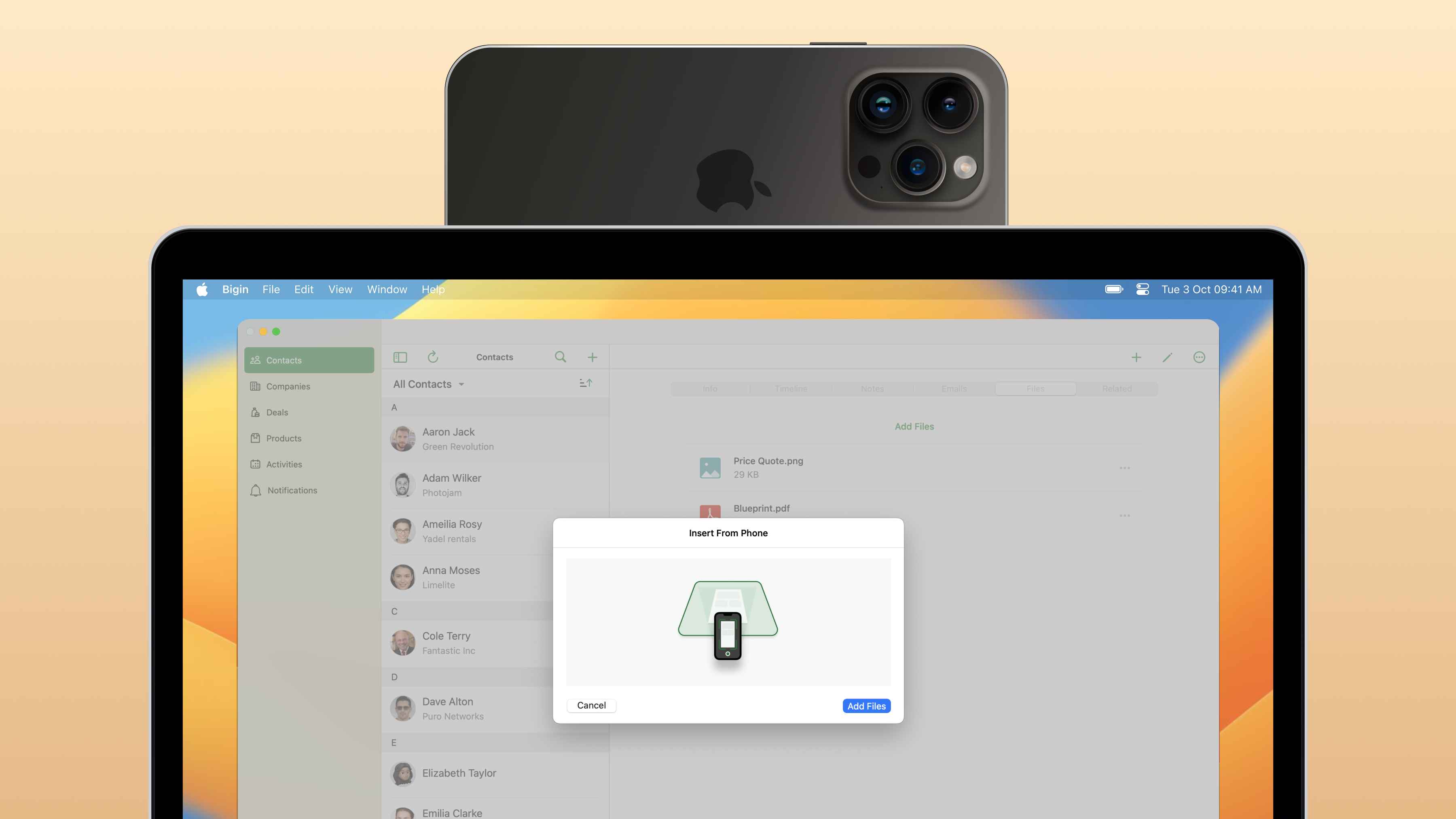 Your typical workday is about to become significantly less stressful as a result of these enhancements. With this, we hope to remind our users that we remain committed to them and their continued success.
Download Bigin to boost your productivity on your preferred Apple device!
Leave a Reply
Your email address will not be published. Required fields are marked