One year of Bigin: More features, more power to small businesses
One year of Bigin: More features, more power to small businesses
Last Updated: December 11, 2023
286 Views
8 Min Read
In the relatively short period of time since we launched Bigin, we have been truly humbled by the reception and acceptance we have received. Bigin turned one this May and continues to serve a wide variety of small businesses, pushing us to work even harder to make the world's most pocket-friendly CRM solution inclusive for every one who dreams of starting a business.
Last May, Bigin was introduced as the only CRM solution built and priced exclusively for small businesses. Extremely easy to set-up and start selling right away, Bigin now helps thousands of small businesses effortlessly sell, grow, and run nonstop.
Offering a simple yet powerful CRM wasn't easy. We had to carefully pick the right features to add, consciously rejecting other standard CRM features, to keep the product light. It's like creating the perfect sandwich when you're on a diet. One extra squeeze of barbecue sauce can throw off the whole meal.
But our feature selection worked, here is everything we've added to Bigin this year. The refreshed Bigin was well-received by our customers and only strengthened our core idea behind it: Simple, just works!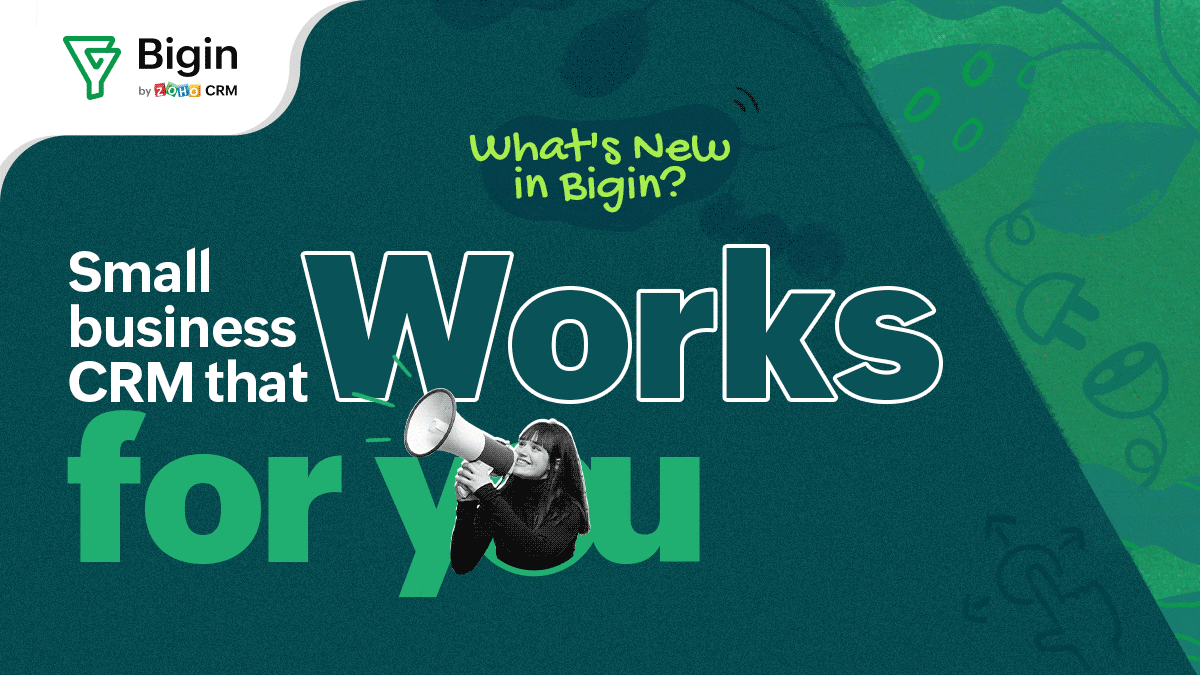 Building on our core idea..
We've learned a lot over the past year. With the pandemic came unforeseen challenges for small businesses to endure, and our primary goal at Bigin is to support small businesses.
First and foremost, Bigin has to work for you, helping you handle all the intricate details of your business. Secondly, It has to be flexible enough to work with other applications you use in your business and blend right in with your little ecosystem. Thirdly, it has to be able to keep you up to speed, wherever you are, without you having to sit down in front of your laptop every time.
The ideal CRM offers: usability, extensibility, and mobility. In simple terms, we think the right CRM is something that works for small businesses, works with their apps, and works anywhere.
Over the last year year, we have dramatically improved Bigin in these three areas. We know you love that Bigin is simple and ready-to-go. So we've only made the upgrades we are confident will help small businesses. Useful features and no gimmicks.
How Bigin works for you
Though Bigin already checks a lot of boxes, we wanted to make extra sure that it addresses all the hurdles small businesses face. We added a few more functions so it is easier to make changes, saving users time going back and forth to Settings.
Here are some of the new features we think will blend beautifully with any small business's setup:
Collapse stages
Too much information crammed into one screen can be overwhelming for some users. Sometimes you don't need to know as much about the negotiation stage or the review stage, and you'd prefer to have it hidden or, check this, collapsed!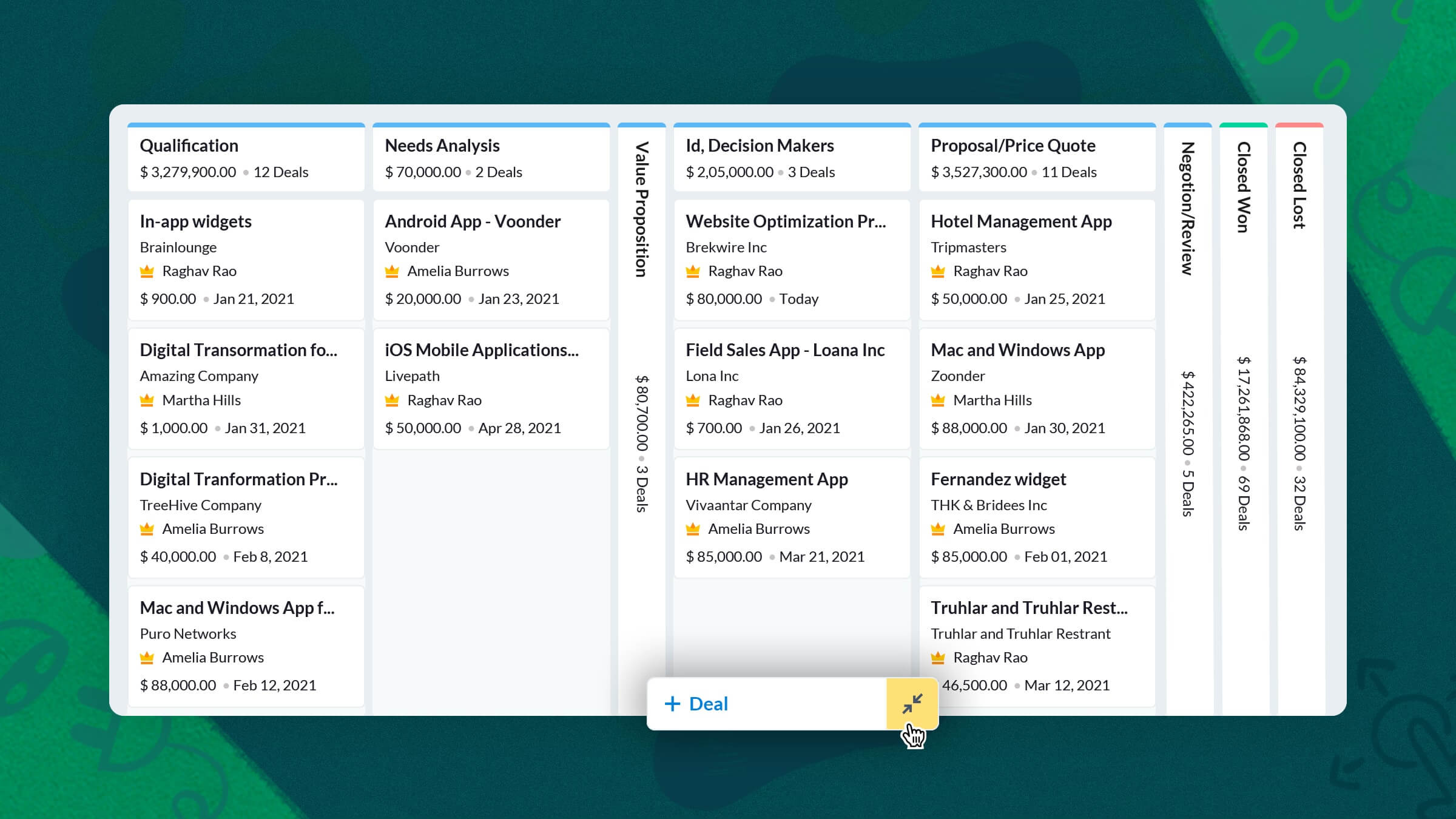 This feature lets you collapse less important stages so you can focus on the ones that are top priority.
Move or add new stages
As small businesses grow, so do their operations. The changes may add more stages to completing a sale or result in restructuring the pipeline. To easily accommodate these sorts of changes, we have added easy one-step actions to make more room. If you need to rearrange stages, this new feature lets you simply drag and drop them anywhere in your pipeline. And when an entirely new stage is required, you can instantly add a new stage to any pipeline in just a couple of clicks.
Rename modules
Small businesses come in all shapes and sizes, from mom-and-pop stores to startups, and the way they operate varies widely. A small retailer may be chasing"deals" with "contacts", while an engineering firm thinks in terms of "projects" and "clients".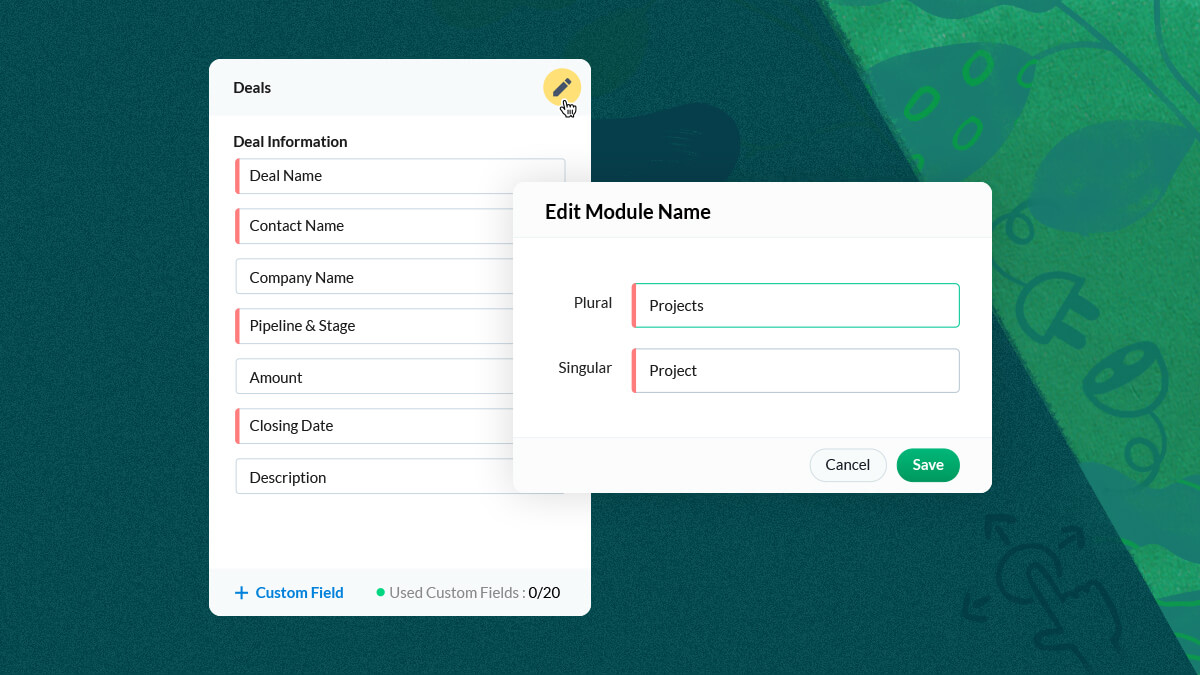 Although these terms aren't that different in the grand scheme of things, we thought small businesses shouldn't have to spend time getting used to terminology changes just to use a CRM. We want you to feel at home in Bigin, so we decided to let you rename the modules to whatever you say in your business.
Faster, actionable Search
We made the search more dynamic this year to cut down on the steps required to find and edit records. For example, if you need to find a contact to edit its phone number or change its ownership to a different user, that would be a multi-step process of searching for the contact, clicking on it, visiting the module, making changes, and then saving them.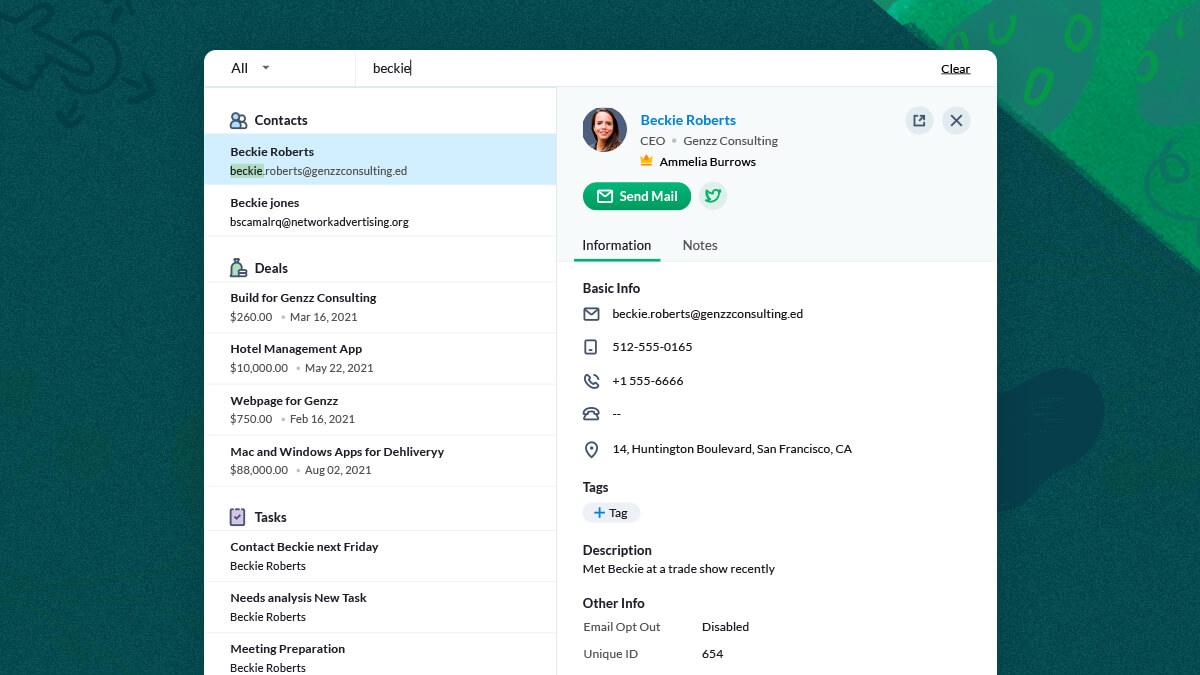 It would be so much easier if you could just pull up a record and make changes to it right from the search bar. This saves so much time by cutting the process down to one single step. That's exactly what we did for Bigin this year. You can now edit records right from the search bar, without having to visit the module the record belongs to.
Call recording, call transferring, and queuing
Not being able to recall a crucial detail from a phone conversation happens far too often. Understandably, this can be even worse for small businesses, since they do not have dedicated customer support teams to keep tabs on communications. Going solo means having a whole lot of information to remember.
If you're on the phone talking to customers and prospects all the time, it's not unusual to forget things. The new Call Recording feature in Bigin can help. It allows users to record their calls and store them as audio files in Bigin to play them back anytime.
If you're a small business that shares the same business phone number, it is possible for a user to get calls that were intended for another user. Fortunately, you can easily set up Call Transferring in Bigin, to transfer calls to other Bigin users in your organization. That way, small businesses can rest assured that they'll never miss an important call.
Moreover, when you are on the phone and more calls keep pouring in, the Call Waiting Queue in Bigin can come to the rescue. Bigin arranges all incoming calls in a queue so that when your line becomes free, the next caller in line is automatically connected to a call with you. This also reassures callers that their calls will be answered, no matter the waiting period.
How Bigin works smoothly with your other apps
One word: Integrations.
Okay, two words: Integrations, APIs.
It's important that your CRM works with other applications that your small business uses. From meetings and emails to accounting and invoices, a CRM needs to be on top of everything so users don't have to switch back and forth between applications to know what's up.
When Bigin was first introduced, it could integrate with some of the most essential and popular apps. Since then, we've added a few more along the way, including a state-of-the-art developer API to allow small businesses to connect to any third-party app of their choice!
This year, Bigin gets the perfect additions to its ever growing list of integrations, such as the much awaited Zoho Books and Invoice integration—the absolute best way to bring all sales and accounting data together, in sync, and in real time.
Other native integrations introduced are:
Mailchimp to assist with email marketing
Zoho Forms to create forms for webpages and collect user responses
Zoho CRM if your core sales force needs more power for their sales tasks
Zoho Sites, to easily embed webforms from Bigin

Bigin already covers other must-have popular integrations like: Google Workspace, MS Office 365, Zoho Campaigns, Zoho Desk, Zoho Meeting, and if you need to connect with an app we don't integrate with, it can be easily covered with Zoho Flow and Zapier. By integrating with Zapier or Zoho Flow, businesses can connect to thousands of other apps smoothly.
Besides providing small businesses compatibility with other applications, we also think the ability to sync phone calls to prospects and customers with your CRM can be a game changer. Which is why you can connect Bigin to any of the 75 cloud telephony systems available in Zoho's PhoneBridge Marketplace.
How Bigin works anywhere
The best CRM experience doesn't stop at your desktop.
It is important that the people keeping small businesses running can perform and monitor all that is going on while they're away from their desks. As sellers and buyers are often scattered across regions, it is imperative for small businesses to be able to reach out to customers no matter where they are. This means small business owners need all the resources they can get to take their business mobile and thrive.
This leaves us wondering why the mobile CRM experience isn't given enough attention by our competitors. It's not uncommon to find that other mobile CRMs only have list layouts and nothing dynamic to actually get work done when not in the office.
We decided to do things differently with the Bigin app.
One of Bigin's stand-out features is our unified pipeline view on mobile apps. While most of the competition only provides list views, Bigin's refreshed pipeline view makes it easy to sell right from your smartphone. We offer simple drag-and-drop actions for deals, a neat summary of your pipeline stages, reminders with voice assistance on your phone, KPIs with widgets, and a lot more features for mobile that come in handy when you're on the move.

Every deal, every stage, and every notification counts for emerging businesses. That's the thought that went in to making the Bigin mobile app look, feel, and function the same way Bigin works on your computer. And many features and upgrades later, it still feels the same.
Unrestricted by conventions, we wanted to make Bigin not just work on multiple platforms, but also adapt to the functions of the device you use it on. Proving our case is the fact that Bigin is currently the only CRM app on the Mac AppStore that is adapted to native macOS Big Sur features.
Unsurprisingly, the Bigin app made it to the App Store's list of best Mac apps with awesome widgets.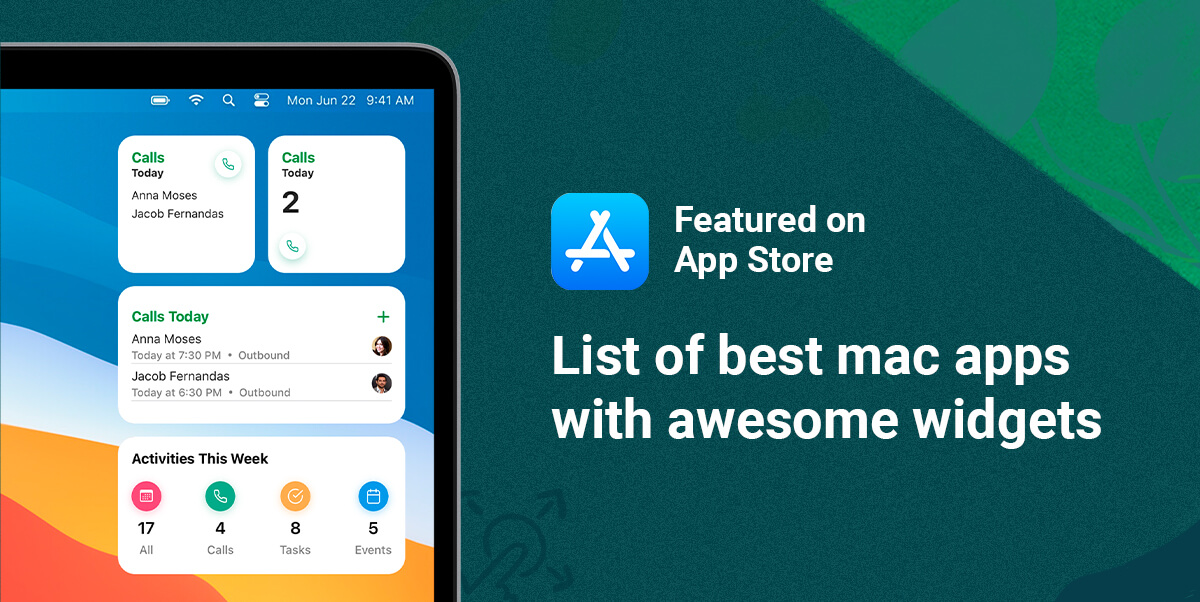 Bigin even adopted the Scribble function on the iPad to push the limits of what a mobile CRM can do. Bigin also made its way to the Apple Watch with a unique complication which helps uphold Bigin's "Works Anywhere" spirit.
...and that is not all!

There is a reason we update Bigin the way we do. At Zoho, your challenges are seen, understood, and solved. With Bigin, we believe in giving small businesses the most essential features that they'll be comfortable using right from the start.

In the coming months, we are also planning to roll out more useful and life-saving features in Bigin.

Features like pre-built templates for your business, multi-currency support, stage transition rules, advanced automation, and color coded tags are part of the package.
---
As we celebrate all the features we have added to Bigin, we can't forget that this pocket rocket of a CRM wouldn't have been a hit without you trusting in its potential to be the best CRM for small businesses.
Thank you for believing in us, it has pushed us closer towards what we set out to be.
We'd really love to hear about your Bigin Experience.
Do share it with us in the comments. It helps us serve you better!
New to the best CRM for small businesses? Let's Bigin!
Already using Bigin? Click here to read more about the new features.
Leave a Reply
Your email address will not be published. Required fields are marked